Weisser Glass offers a terrific schedule of classes for beginner through professional levels. Courses are offered in stained glass, fusing and kiln forming, beadmaking, glass jewelry, paperweights, glass casting & mosaic. Our goal is to offer the highest quality of instruction in a friendly and helpful environment! New class schedules are posted about every two months.
WE ALSO TEACH PRIVATE LESSONS AND PRIVATE GROUP CLASSES! SELF-DIRECTED BENCH TIME IS ALSO AVAILABLE. CALL OR EMAIL US FOR MORE INFO.
All classes require pre-registration and payment to reserve your space.
You may register by phone at 301-571-8966.

Copper Foil Stained Glass for Beginners
Seven 2-hour classes. Tuition $245.00; tools and supplies extra.
Learn to build a stained-glass window using the copper foil method. Everything you need to know including patterns, types of glass, glass cutting, tools, soldering and finishing are taught. Students complete a small stained-glass window approximately 11" x 14. Requires homework.
Thursday evenings, 7-9, Feb 7, 14, 21, 28, March 7, 14, March 28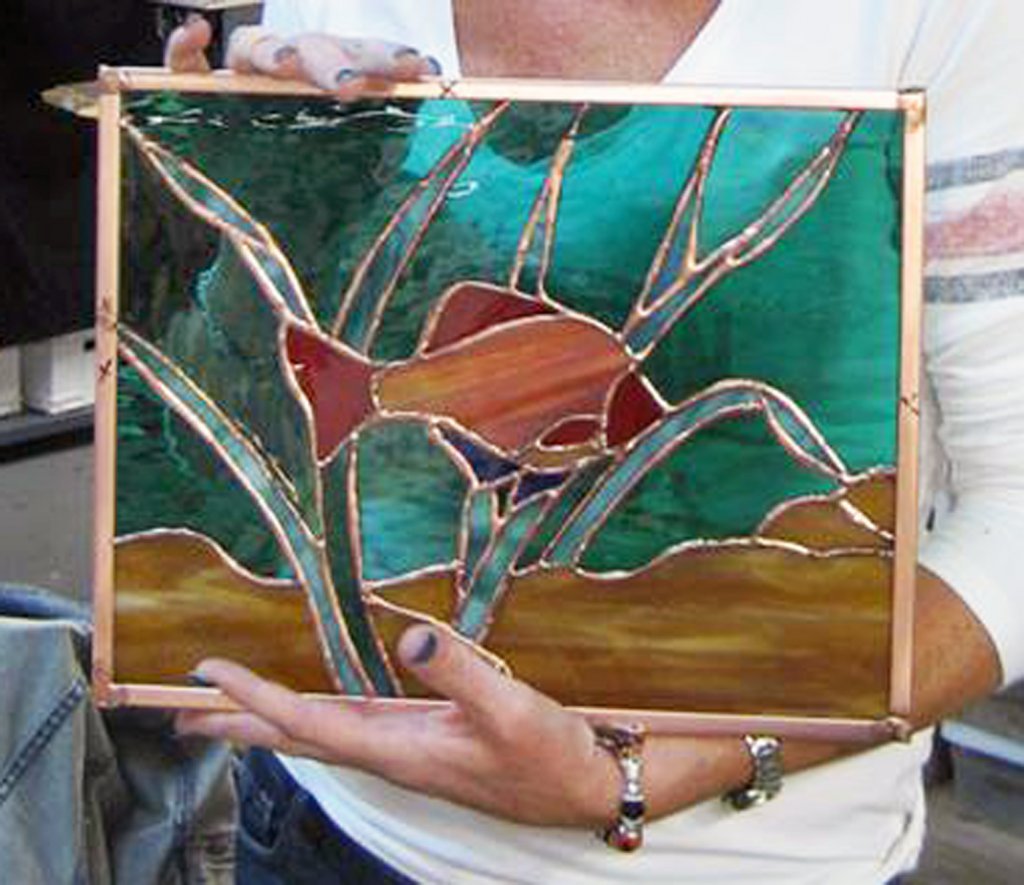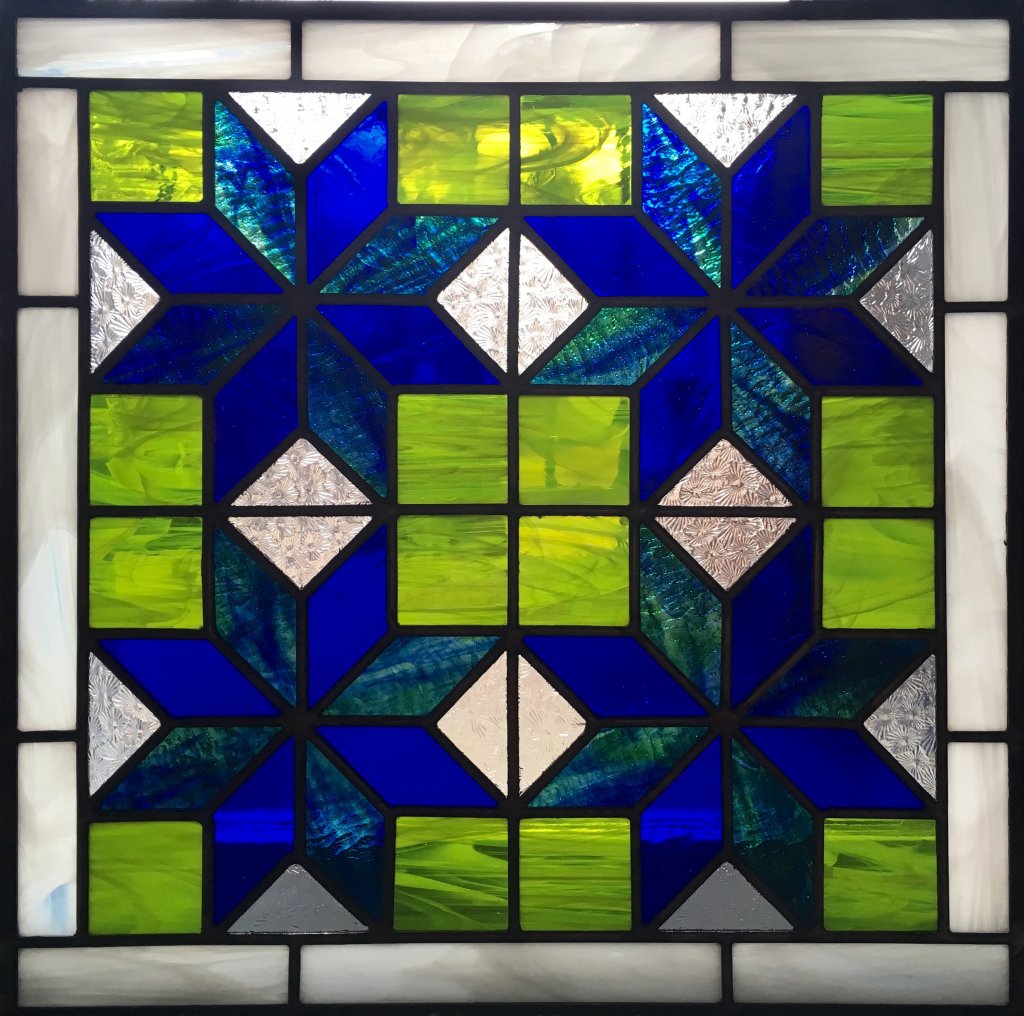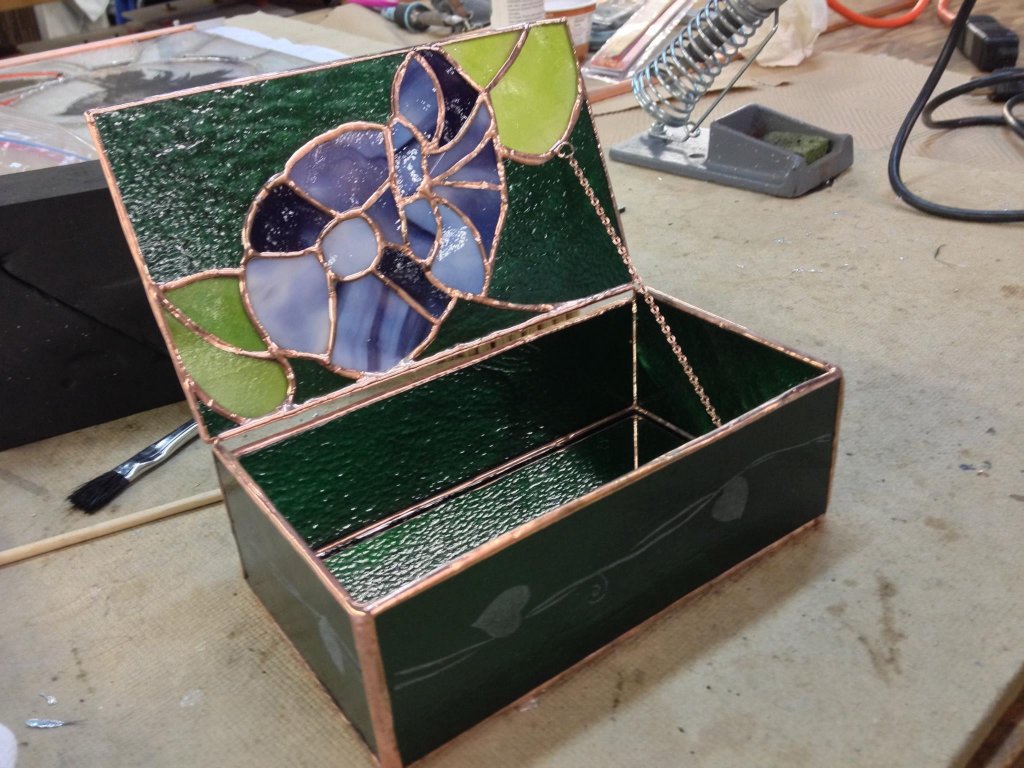 Stained Glass- Beyond Beginner
Seven 2-hour classes. Tuition $245.00; tools and supplies extra. Previous stained-glass experience required.
This class has an open curriculum allowing students to continue their exploration into stained glass under the supervision and guidance of an experienced instructor. Students might select a new project like a lamp, box, panel, or bring a project in progress. This class is a great way to learn new techniques, get a refresher, have your questions answered, or get help with more advanced projects. We can provide the instruction and extra motivation you need to get that project done!
Thursday evenings, 7-9, Feb 7, 14, 21, 28, March 7, 14, 28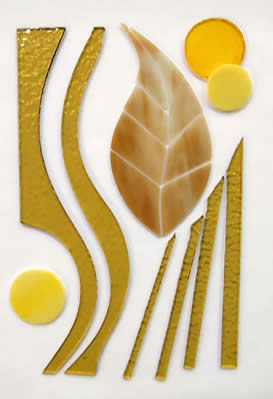 Mastering the Art of Cutting Glass- Pattern Cuts
2-hour workshop. Tuition $79.00. Appropriate for all levels, beginner to advanced.

The key to success in any of the glass art forms is good cutting; people are often intimidated by detailed glass cutting challenges, but it's all a matter of the proper techniques and tools. We'll teach you to do it well! This comprehensive cutting lesson will cover both simple and more difficult shapes. Learn to cut with ease and confidence; guaranteed to improve your cutting no matter your skill level. An excellent starter class for students with no cutting experience, and a valuable refresher for the more experienced glass artist. Bring any challenges you may have!

Sunday, February 10, 2:30-4:30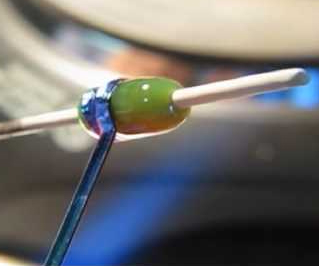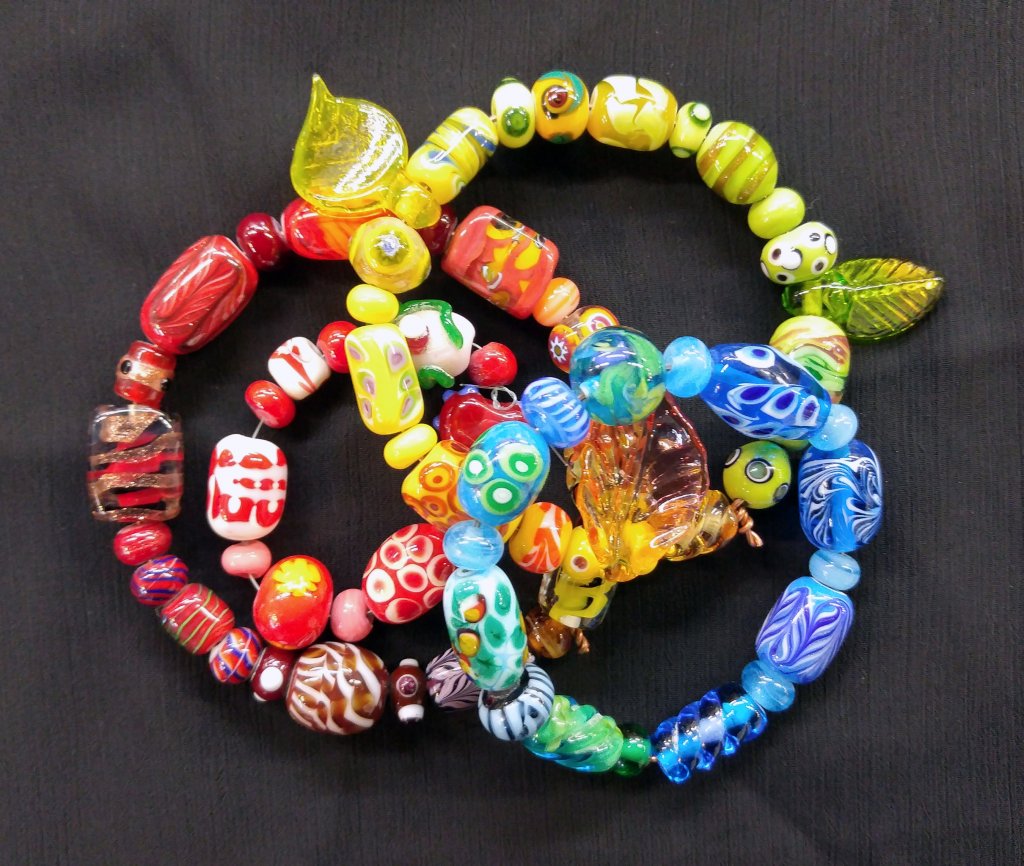 RESCHEDULED FROM JANUARY 13 DUE TO THE INCLEMENT WEATHER!

1-day class. Tuition $195.00; includes materials and use of tools

What could be more fun than learning to melt glass over a torch? In this workshop you will learn to make glass beads using a canister torch. You will become comfortable melting glass rods in a flame and creating gorgeous glass beads. After learning how to make basic beads you will have ample time to create a variety of decorated beads. Equipment, safety, forming and shaping the bead, and various decorating techniques are taught. You will make a handful of unique glass beads and gain enough knowledge to begin making beads on your own. Getting better is simply a matter of practice once you understand the basics. Weisser Glass also sells a bead kit with everything you need to start making beads at home right away, or consider renting bench time if you prefer using our studio to work. All the details are provided at class!
Saturday, February 16, 9:30-4

Introduction to Wearable Art: Fused Glass Jewelry

Two half-day sessions. Tuition $195.00; includes materials and use of tools. NO EXPERIENCE NECESSARY!

Discover the creative possibilities of fused glass for pendants! Students will create their own handmade fused elements and learn to use assorted coldworking techniques to finish their pieces and create beautiful finished pieces of jewelry! Each student will leave class with a few finished pendants, and the skills to produce many more.
Saturday, February 23 & Sunday, February 24, 9:30-12:30 each day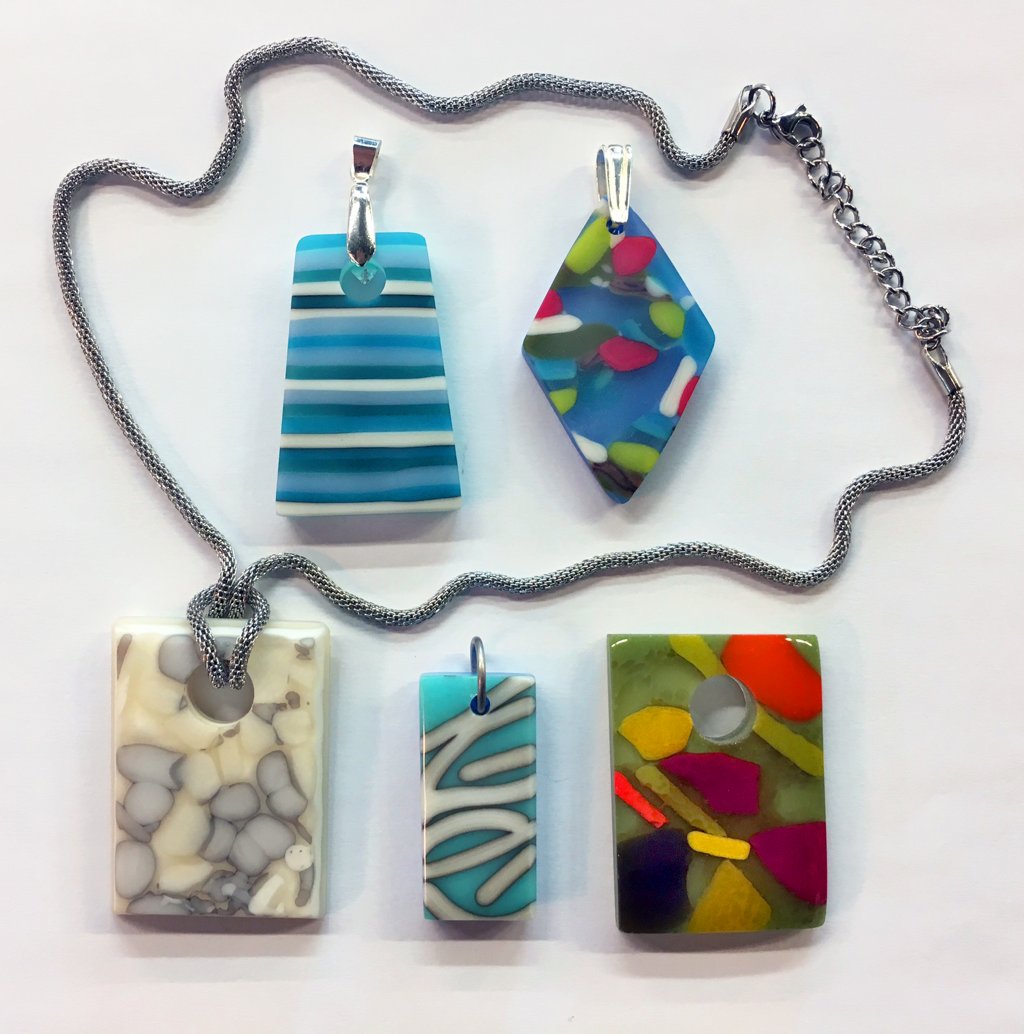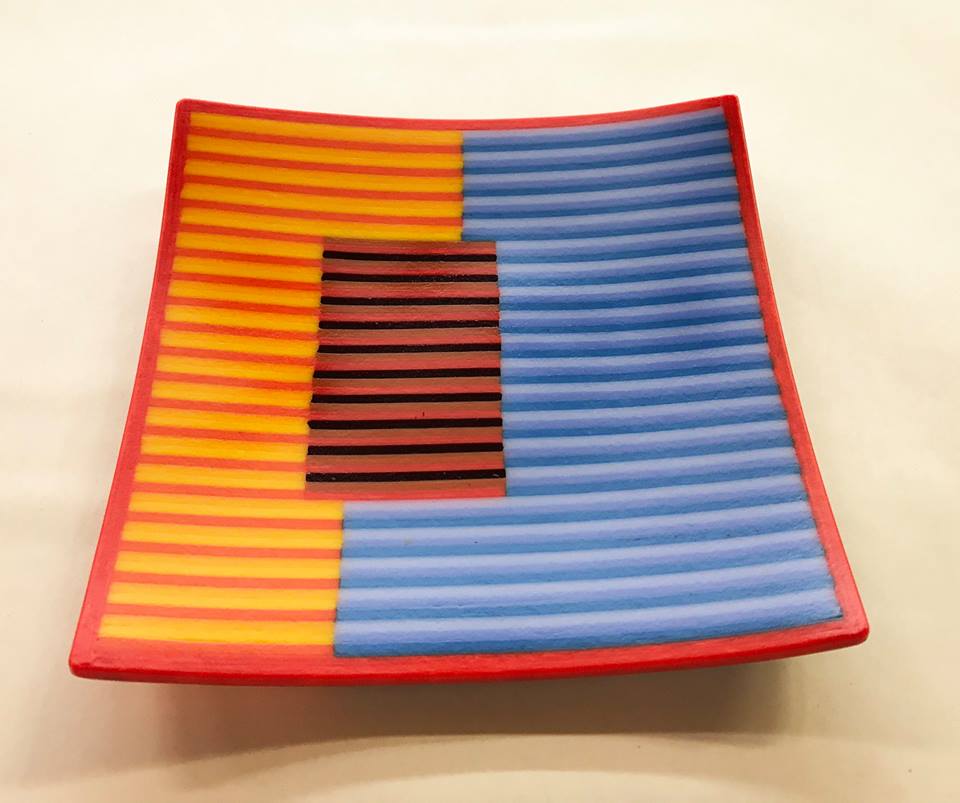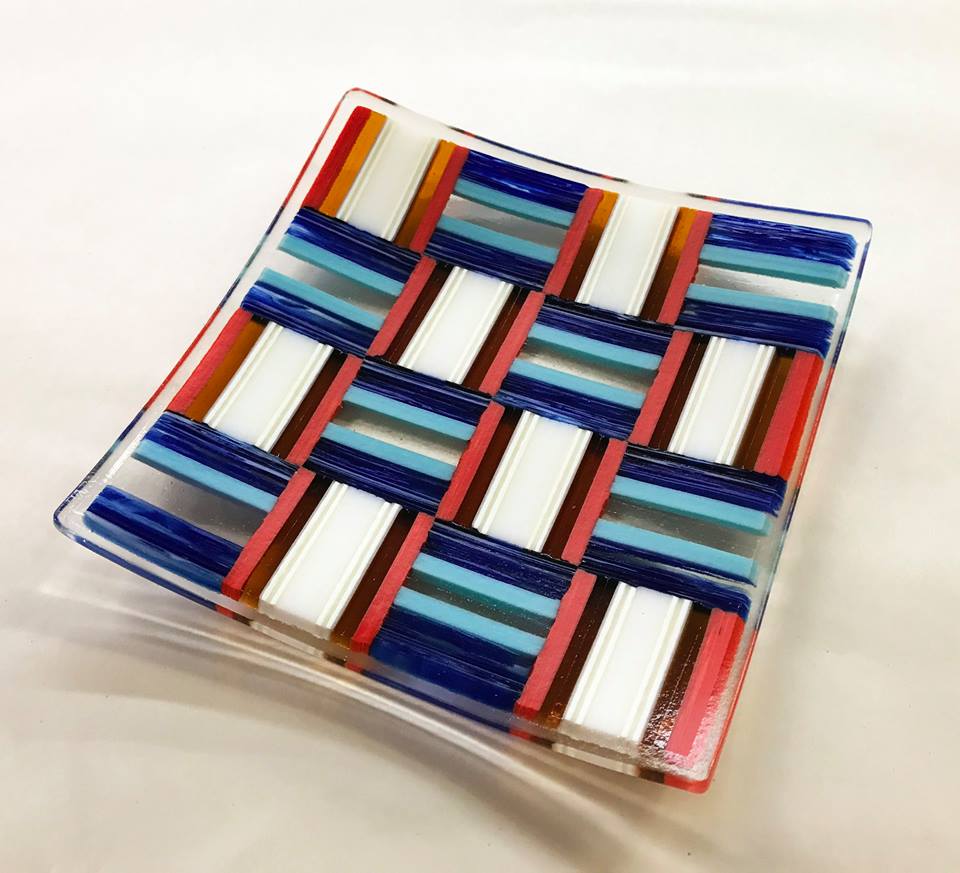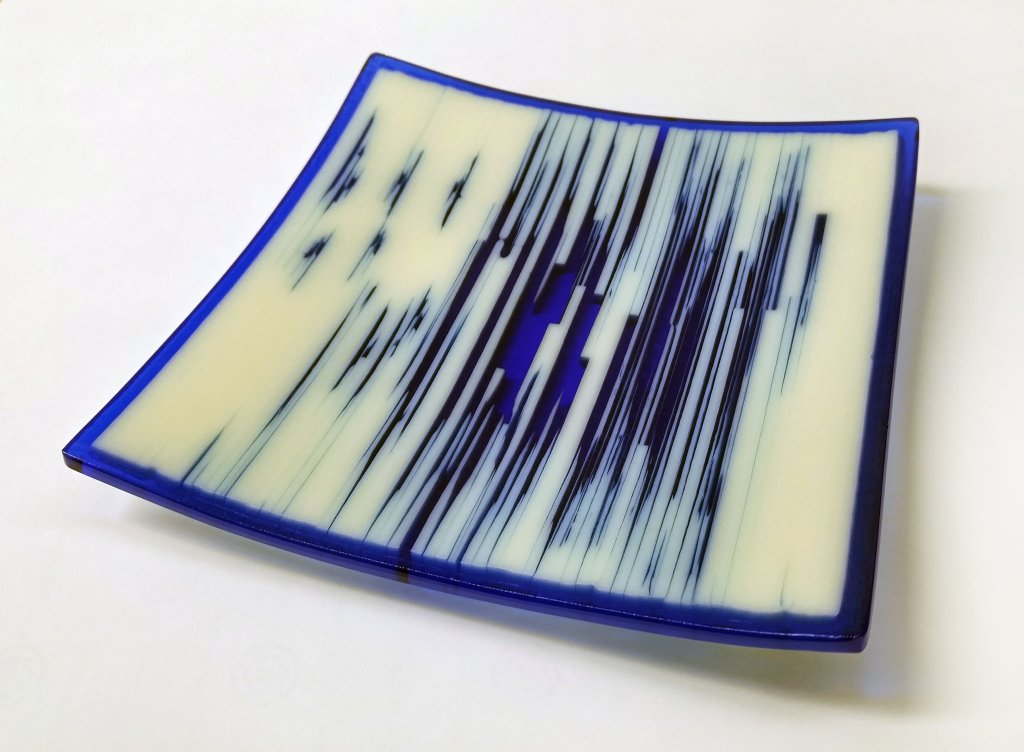 Project Plate Making: Strip Cut Construction
3½- hour workshop. Tuition $149.00; includes all materials, firings and use of tools during class.

In this class, you will create a fused and slumped dish using the strip cut method of construction. You will learn how to design and fuse using strips of glass on edge, crafting beautiful bubble-free projects featuring crisp linear designs in your glass. Methods for cutting strips, how to fire, and various applications for strip cut construction will be demonstrated and discussed.
Saturday, February 23, 1:30- 5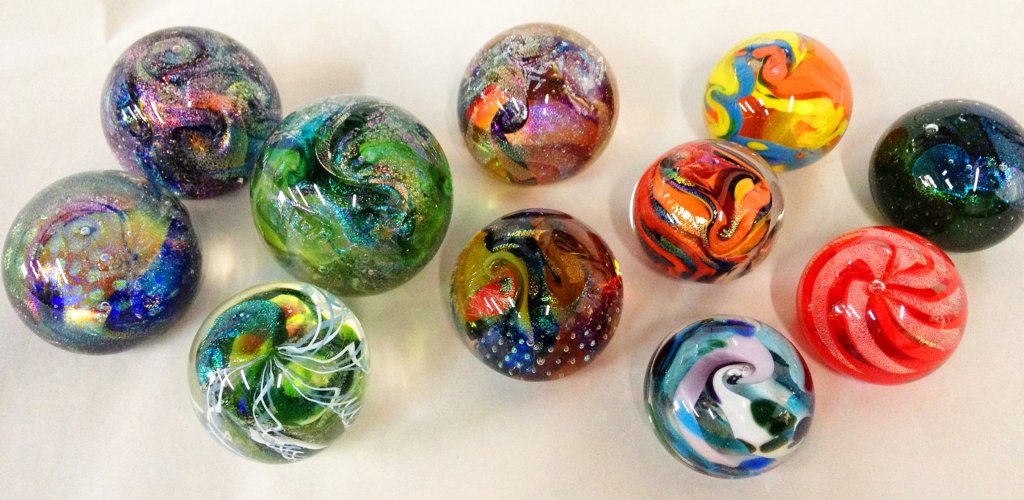 NEW SESSION ADDED!

Glass Paperweights
2-day workshop. Tuition $465.00, includes supplies and use of tools
In this exciting workshop, students will learn techniques similar to those used by glass blowers to create beautifully colored glass paperweights. Learn to gather glass on a punty from a crucible kiln, pick up color, shape and use special studio finishing techniques. Class size is limited to six students. Each student will have time to make three to four paperweights.
Saturday, March 2, & Sunday, March 3, 9:30-4 each day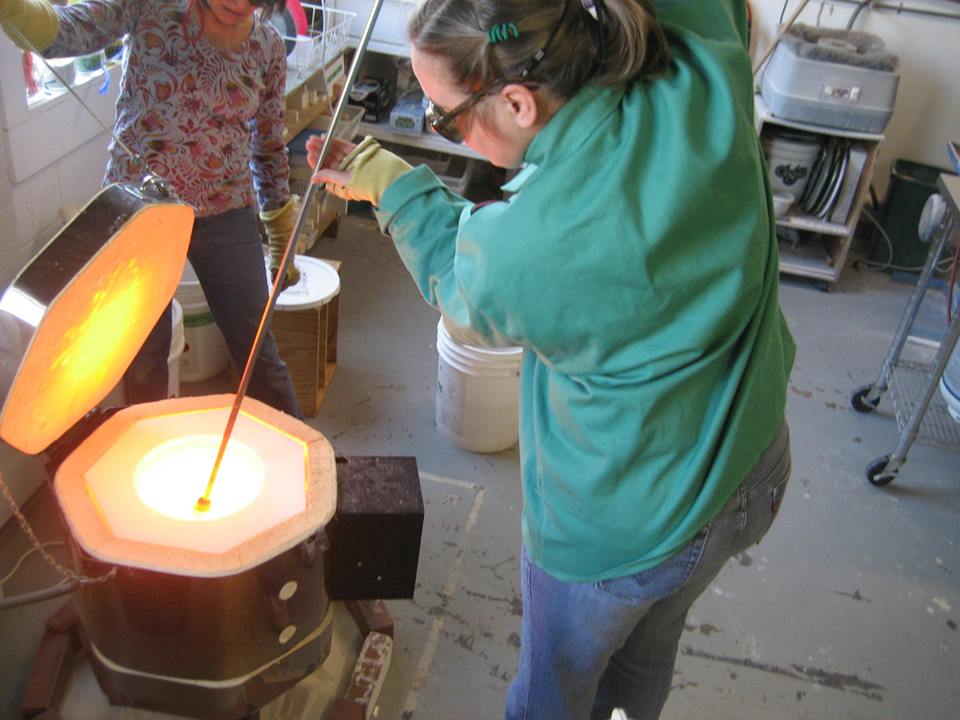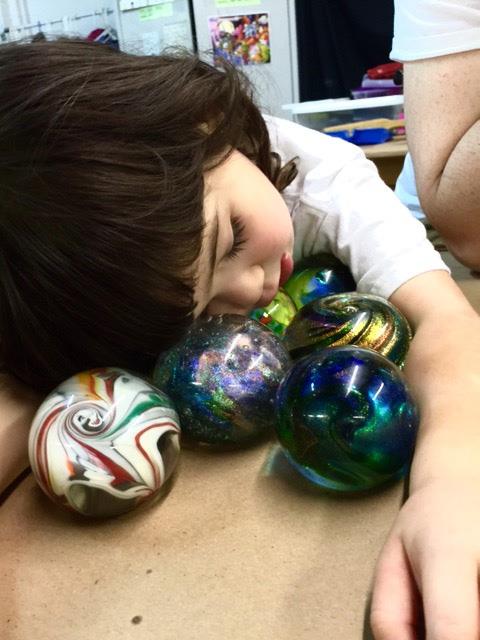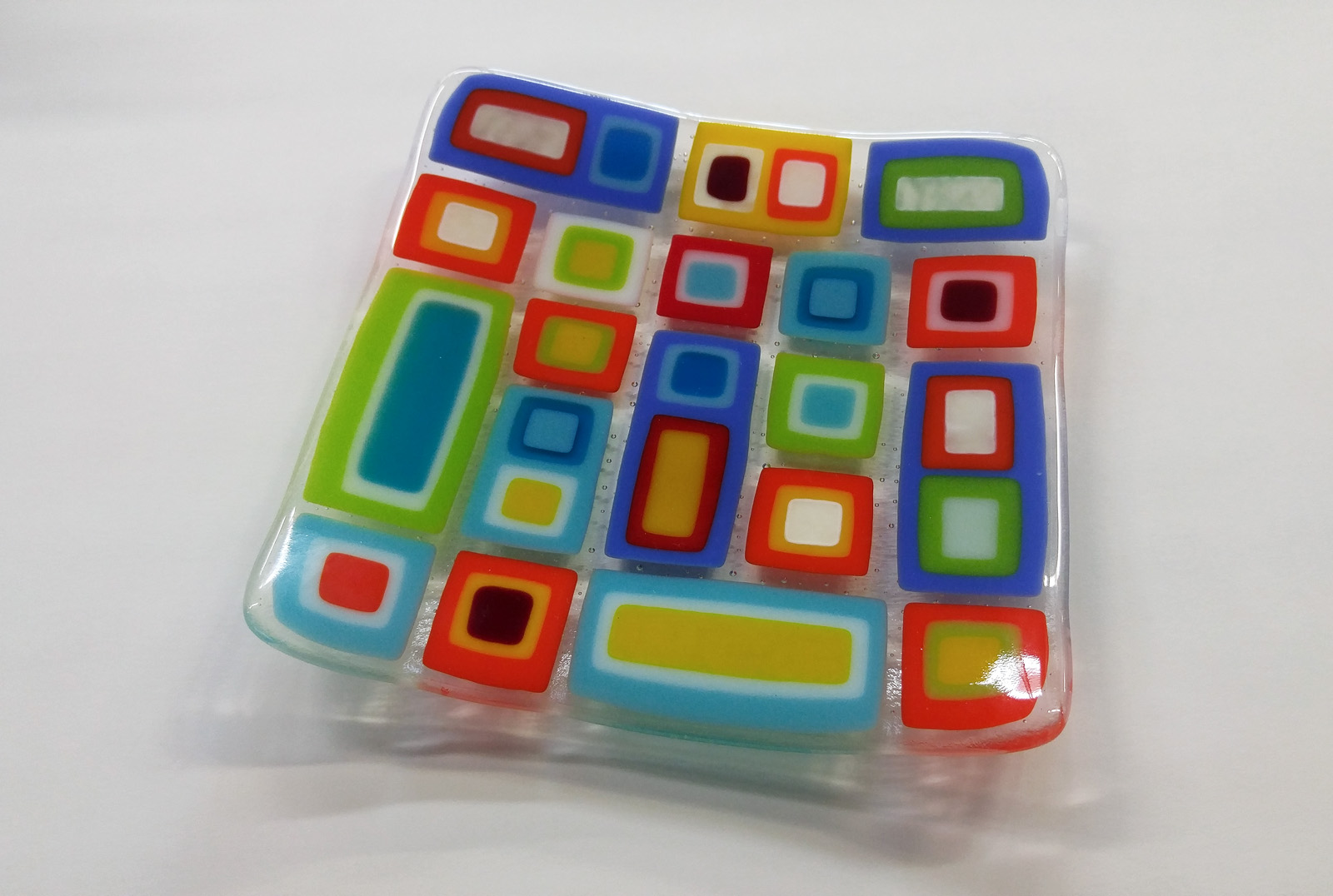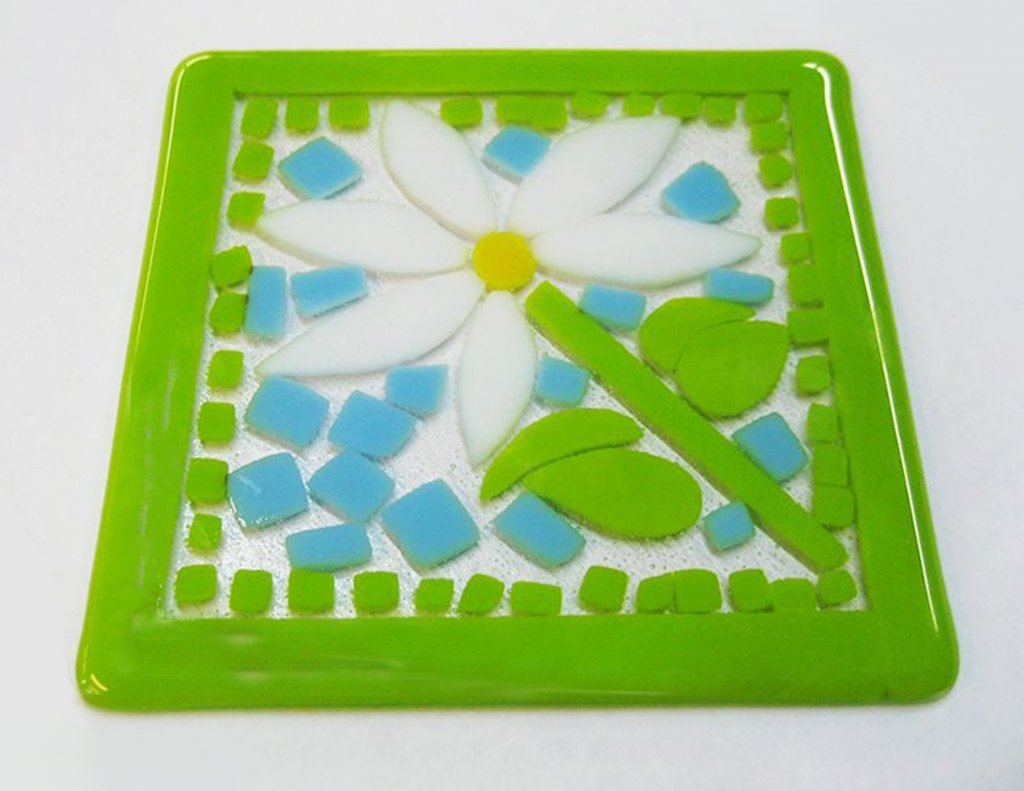 1½-day workshop. Tuition $295.00; includes materials and use of tools

Learn all about the exciting art of fused glass in this comprehensive workshop! A good foundation of basic fusing knowledge is essential to creating more complex and detailed projects, and we cover all the fundamentals. On the first day, students will be introduced to central concepts like compatibility, cutting, and firing by viewing samples and creating a series of experimental tiles. On the second day, students will create a finished 8"x8" plate or bowl of their own design. After taking this workshop, students will have the essential knowledge to move on to intermediate and advanced fusing classes and to work on their own!

Saturday, March 9, 10-4, & Sunday, March 10, 10-1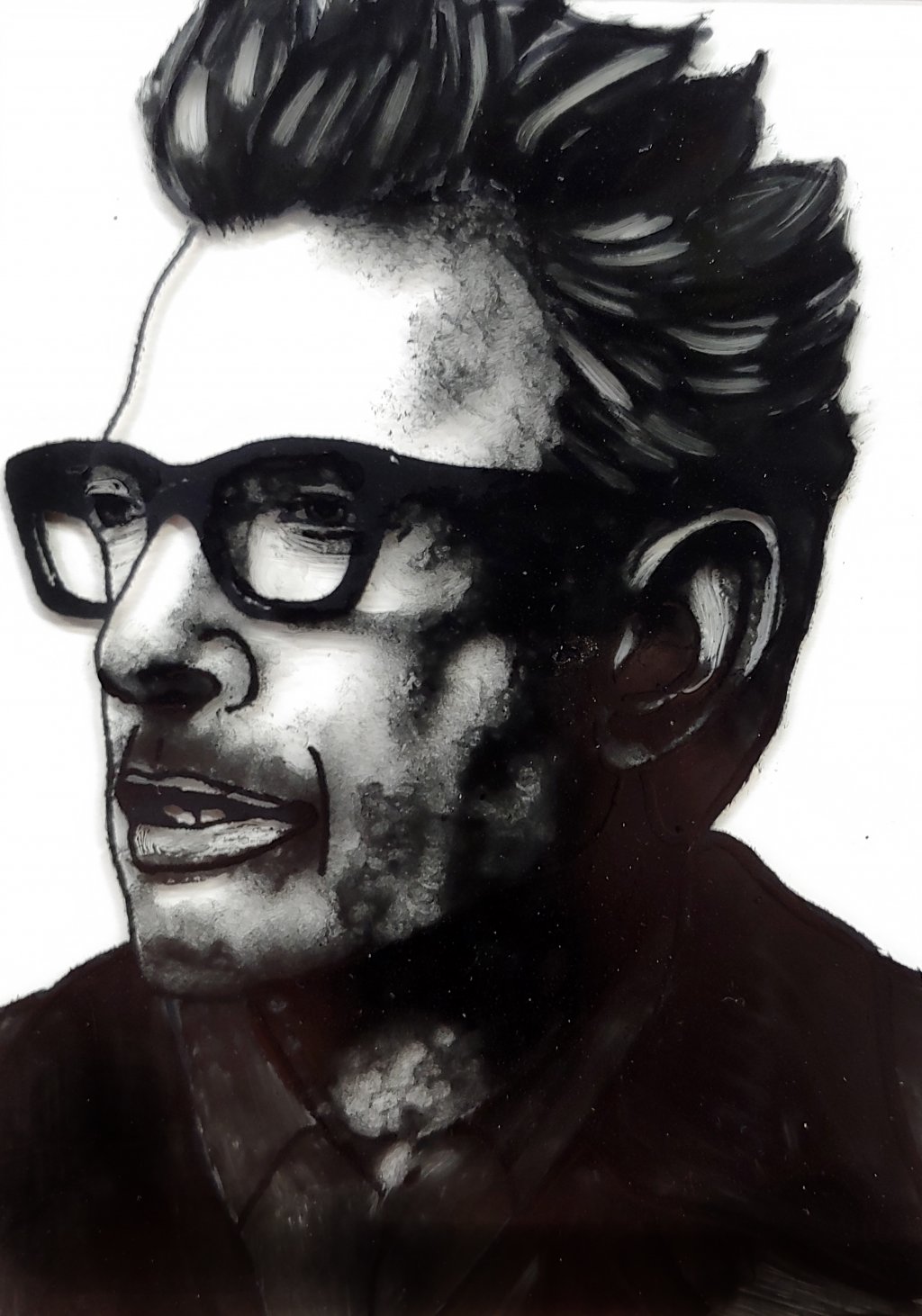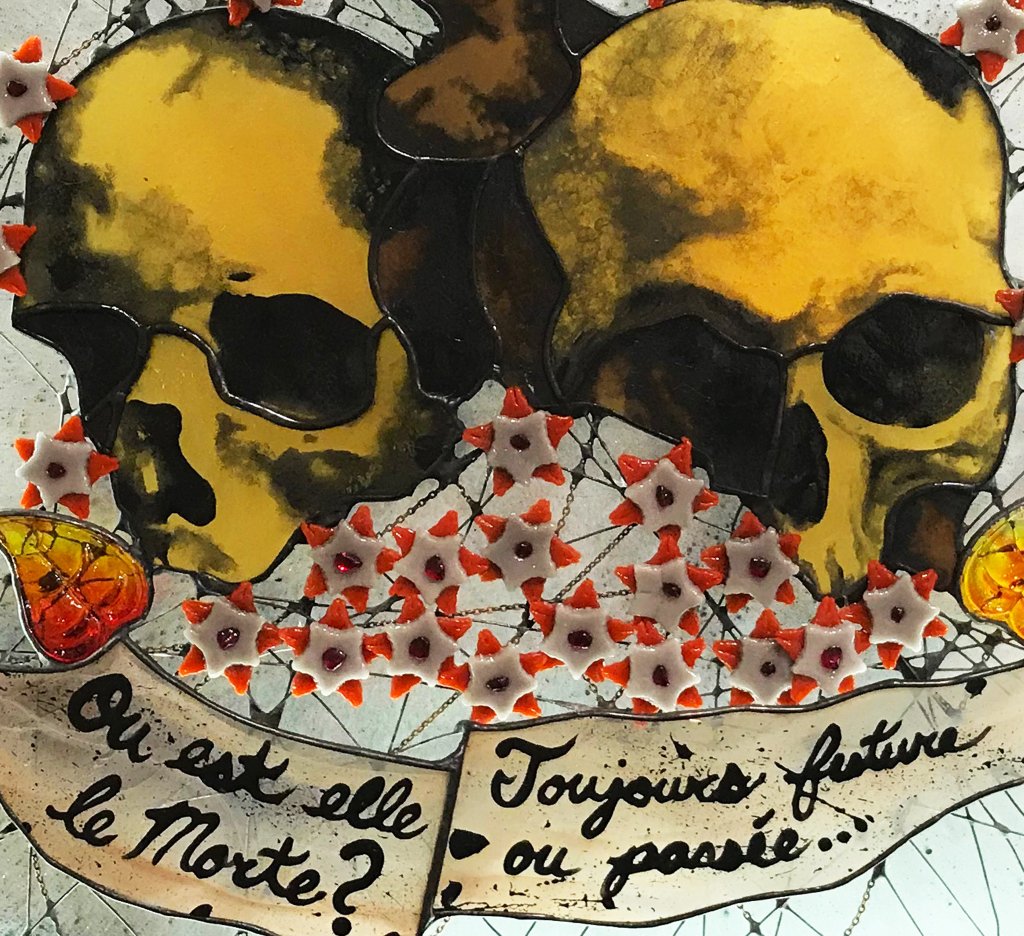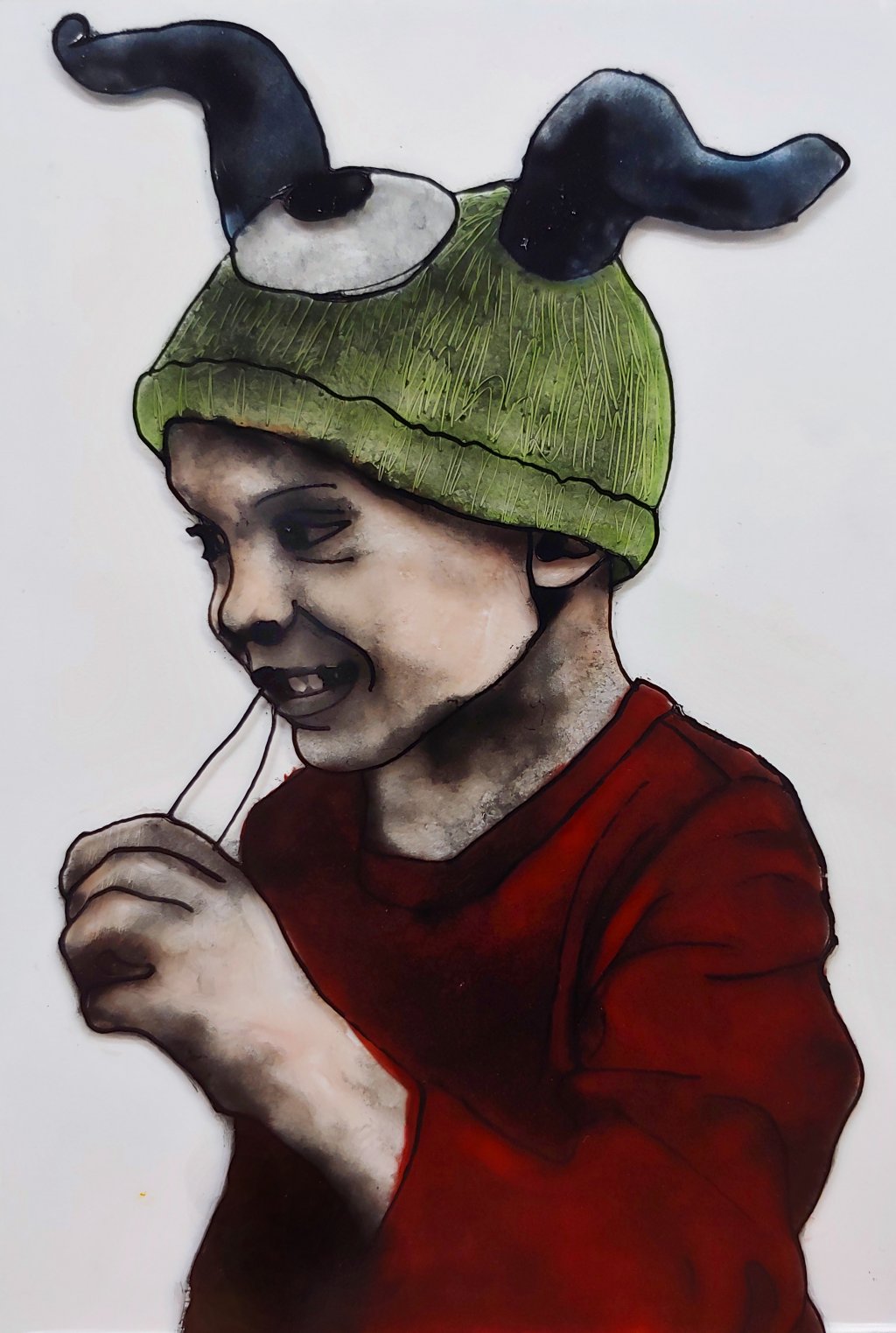 Painting on Glass: Traditional Methods, New Applications
2-day workshop. Tuition $395.00; includes all materials and use of tools during class.

In this painting on glass class we give you all the fundamentals of working with glass enamels to enhance and add imagery to glass. Based in traditional painting methods we will show you how these techniques are being used in a modern way in current glass trends of imagery enhanced artworks. We will also cover simple screen printing methods for ways to create lettering and graphic detailed design. Whether you work in stained glass or are a fuser you will gain a wealth of knowledge about painting methods, various enamels, painting mediums and firing paint.
Saturday, March 16 & Sunday, March 17, 9:30-4 each day
WEISSER GLASS STUDIO WELCOMES MARTIE NEGRI TO THE STUDIO IN MARCH 2019!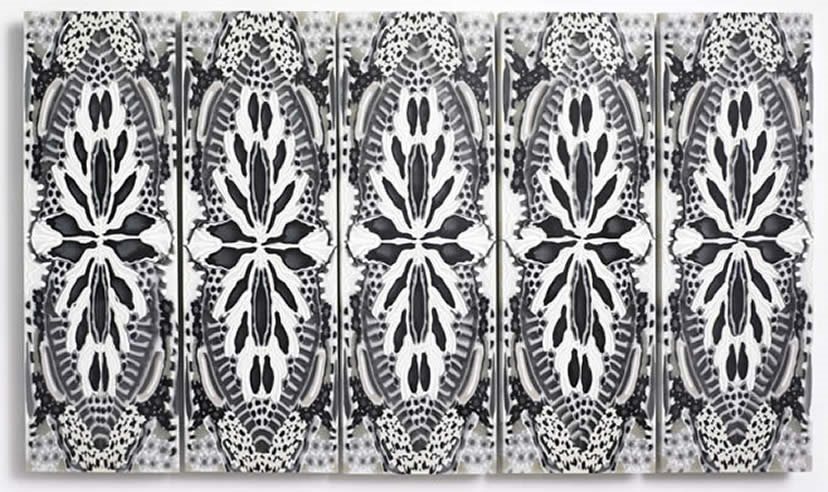 NEW CLASS!
Perception of Pattern: Deciphering the Complex Pattern Bar with Martie Negri
THIS CLASS IS NOW FULL; PLEASE CONTACT THE SHOP TO BE ADDED TO THE WAIT LIST

5-day workshop. Tuition $995.00 plus a $175.00 material fee due at class
Since ancient times, pattern has been a fundamental element in art making. Artist/educator Martie Negri's work evokes the human reaction to pattern in art, whether conscious or subconscious. For the first time, Martie Negri will be teaching her complex and detailed pattern bar techniques here in the Weisser Studio!
In this class, students will explore methods of creating complex pattern elements which can then be combined- in an infinite array of possibilities- to create their own unique pattern bars. Much like a Rorschach ink blot test, Martie will have students work with a restricted palette to aid in achieving contrasting forms; shades of black, white, and grey. This will in turn allow students to better understand the intricacies and subtleties of design that can be achieved with this method.
Martie will be bringing already constructed complex pattern bars to class with her, which the students will then analyze, cut apart and fuse into finished tiles to assist in learning the entire process. Students will learn coldworking and assembly methods which will provide a strong foundation for creating with pattern bars.
Each student will go home with a tile piece created from the pattern bars Marti brings to class and will also learn all the steps to creating their own complex pattern bar. Students will construct a series of pieces in class and have an opportunity to assemble their own complex pattern bar to be fired at the studio, or to take home and fire.
Wednesday, March 20- Sunday, March 24, 9:30-5 each day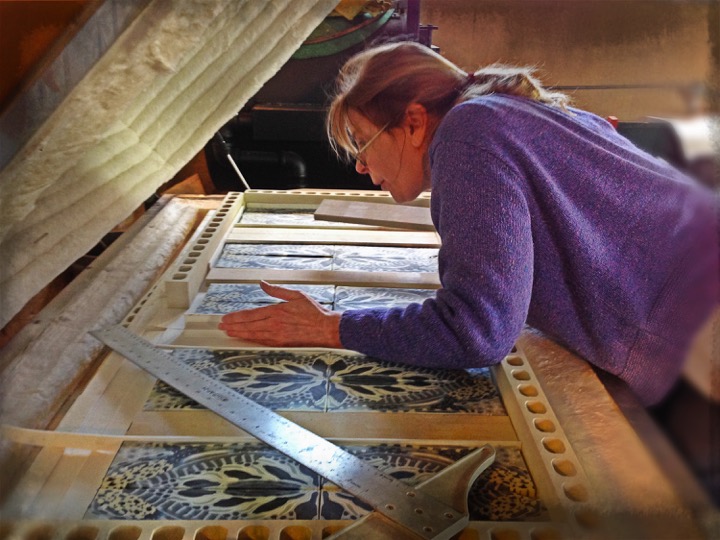 ABOUT THE ARTIST

Martie Negri was a painter and fiber artist before transitioning to glass in 2001. Over the past 15 years she has been developing a contemporary form of millefiori that incorporates new technology with an ancient Italian technique that dates back to the 5th Century. She works out of her studio in Mamaroneck, NY and at UrbanGlass in Brooklyn, NY.
Her work has been in Bullseye Glass biennial exhibit Emerge 2006; was exhibited at SOFA New York and Chicago 2008 and again at SOFA Chicago 2009, SOFA New York 2010, SOFA Chicago 2011.
The Art of the Deep Formed Vessel with Nancy Weisser
THIS CLASS IS NOW FULL; PLEASE CONTACT THE SHOP TO BE ADDED TO THE WAIT LIST.
Tuition $895.00; includes materials*, all firings, and instruction.
$75.00 mold rental fee due the first day of class. Students will also have the option to purchase the 4-mold set for vessel work for a special set price of $295.59 (regular retail $492.65) if they prefer.
*Material cost includes limited color palette, students may supplement with their own glasses if desired.
Creating a deep formed vessel is a multi-step process with a minimum of four firings.Different from a drop out vessel, there is no stretching of the glass; instead controlled heating, sizing and manipulation work to compress the glass into its final distinct form. Nancy Weisser has condensed the process into seven lessons fit into five days. Working with a small group (limited to six stu dents) eliminates the need to have long continuous days to learn, making the lessons more streamlined, individualized and economical. Students will learn the entire process while creating a vessel unique to their own design aesthetic. Students also learn strategies for fusing, coldworking, slumping, and finishing their vessel into a true work of art.
Wednesday, March 27- Sunday, March 31
Wednesday (27th)
Thursday (28th)

Friday (29th)
Saturday (30th)
Sunday (31st)
**Class times may vary slightly based on individual goals and total number of students in class.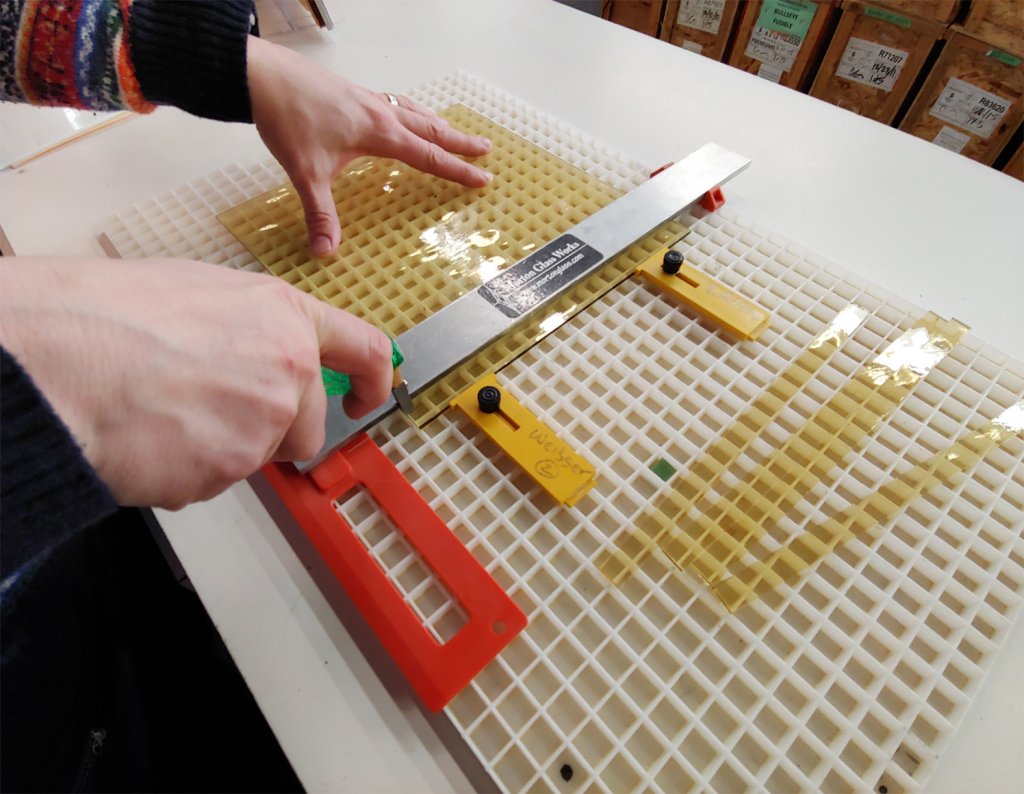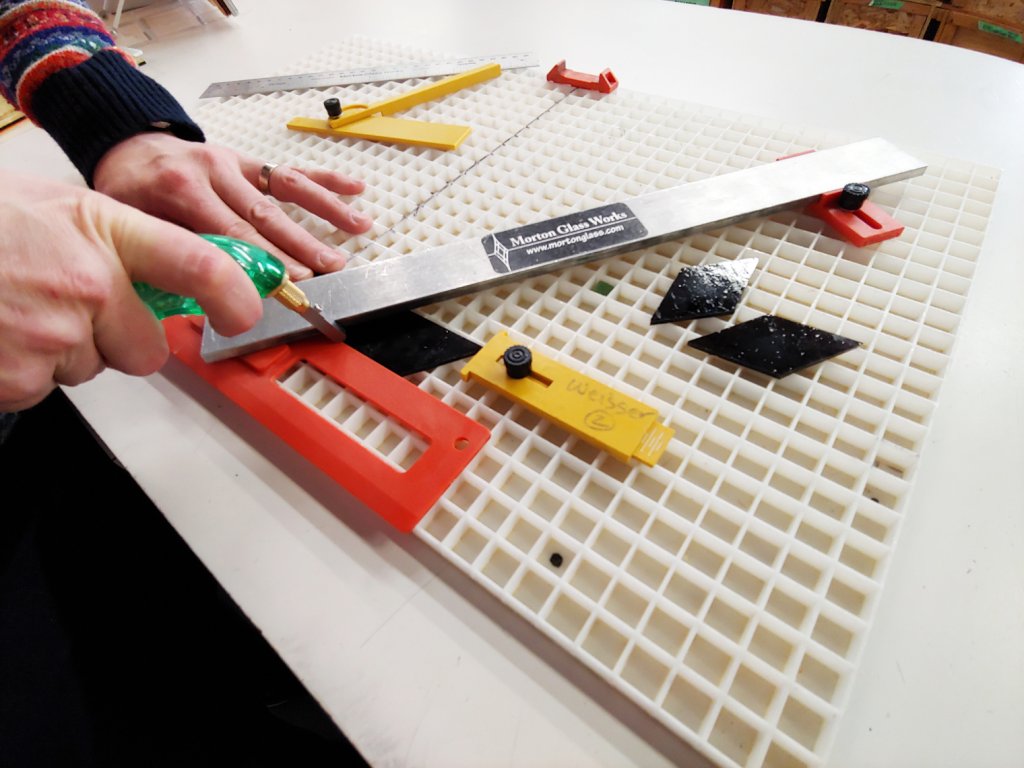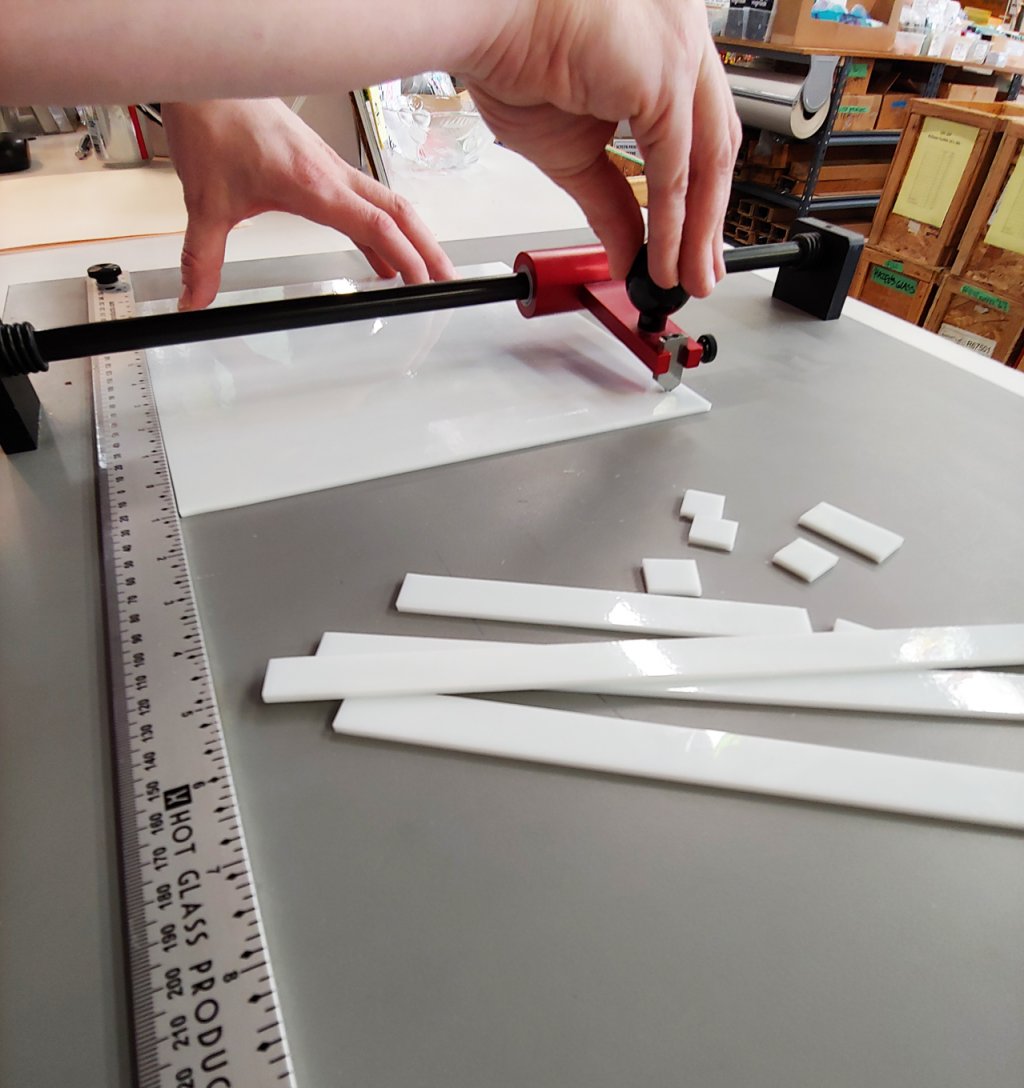 Mastering the Art of Cutting Glass II-
The Portable Glass Shop and Other Strip Cutting Jigs
2½-hour workshop. Tuition $89.00; includes practice glass
Straight lines, strips, geometric shapes and more- we teach you our studio methods of creating quick and accurate cuts saving you time and money! Starting with the Morton Portable Glass Shop, learn to master this extremely useful studio tool for strip cutting and creating quick and accurate geometric pieces of glass like squares, rectangles, diamonds and more. We will also show you strip cutting methods, and the specialty tools designed to help you succeed every time. Gain confidence and understanding as we show the tools and methods to improve your skills.
Saturday, March 30, 1:30-4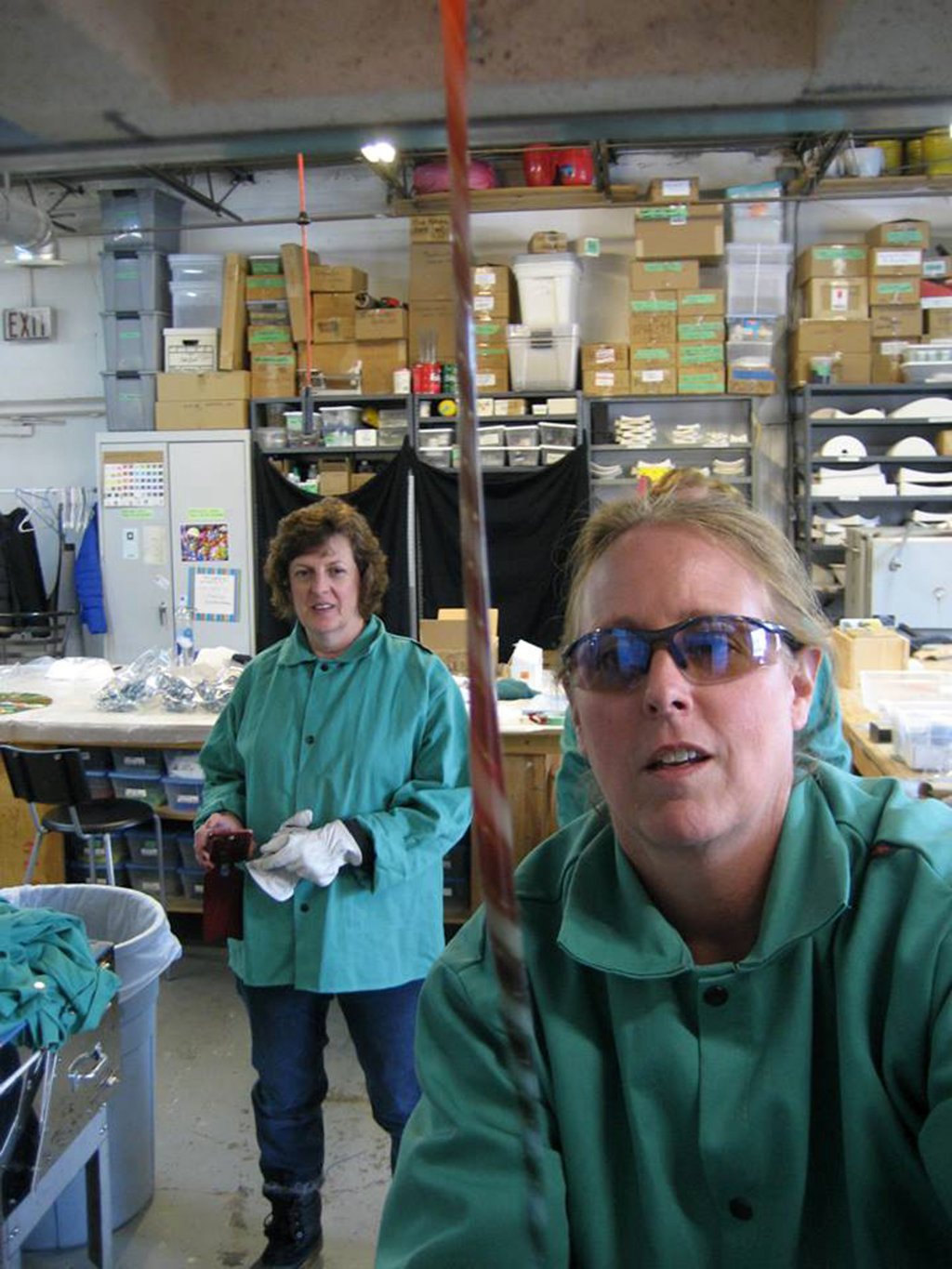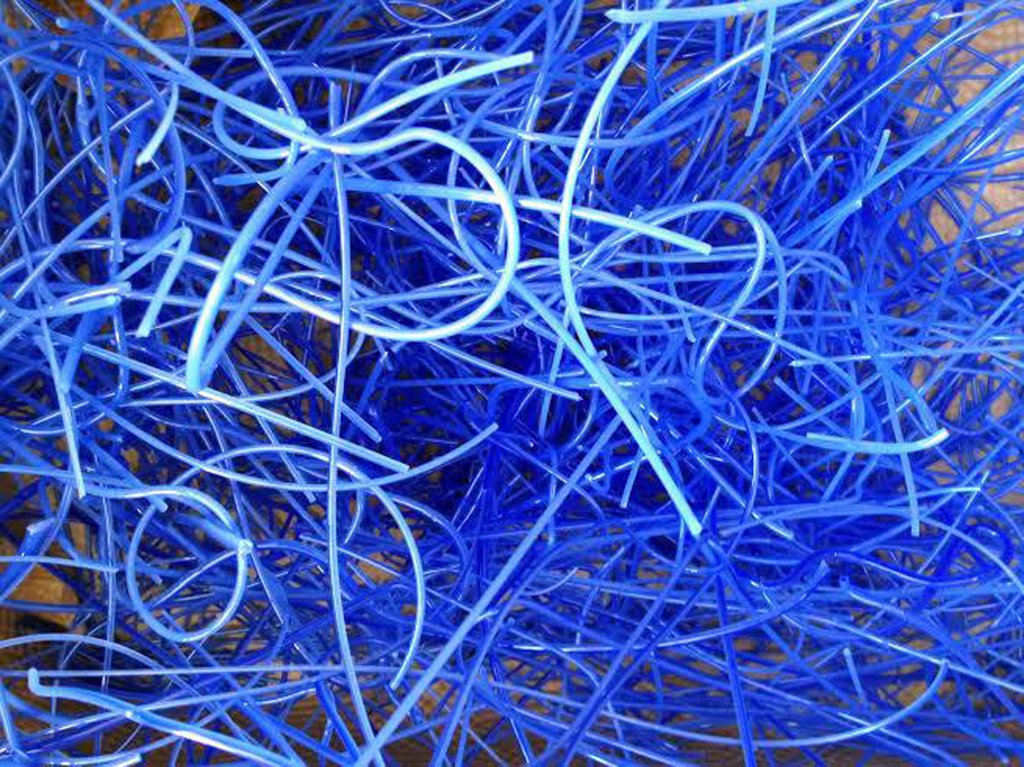 Making Vitrograph: Hand Pulled Stringers, Canes & Twists

Two half-day sessions. Tuition $295.00; includes lots of glass and use of tools. NO PREVIOUS EXPERIENCE REQUIRED!

Come experience the joy of forming hot glass right from the kiln! In this hands-on class you will learn all about vitrograph making including kiln set up, how to load the glass how to pull and spin stringer and how to make twisty canes all from Bullseye fusible 90 COE glass. Whether you're a vitrograph first timer or an experienced maker, you will pull lots of vitro and take home a great big goodie bag of stringers and canes to use on future products. When you arrive on day one, the pots will be loaded and ready to go and you will experience the making of the stringers and canes. You will then work in teams to make your own pots of glass that will be pulled on day two. All the pulled stringer will be divided up between the students to take home. All levels welcome!
Saturday, April 6 & Sunday. April 7, 9:30-1 each day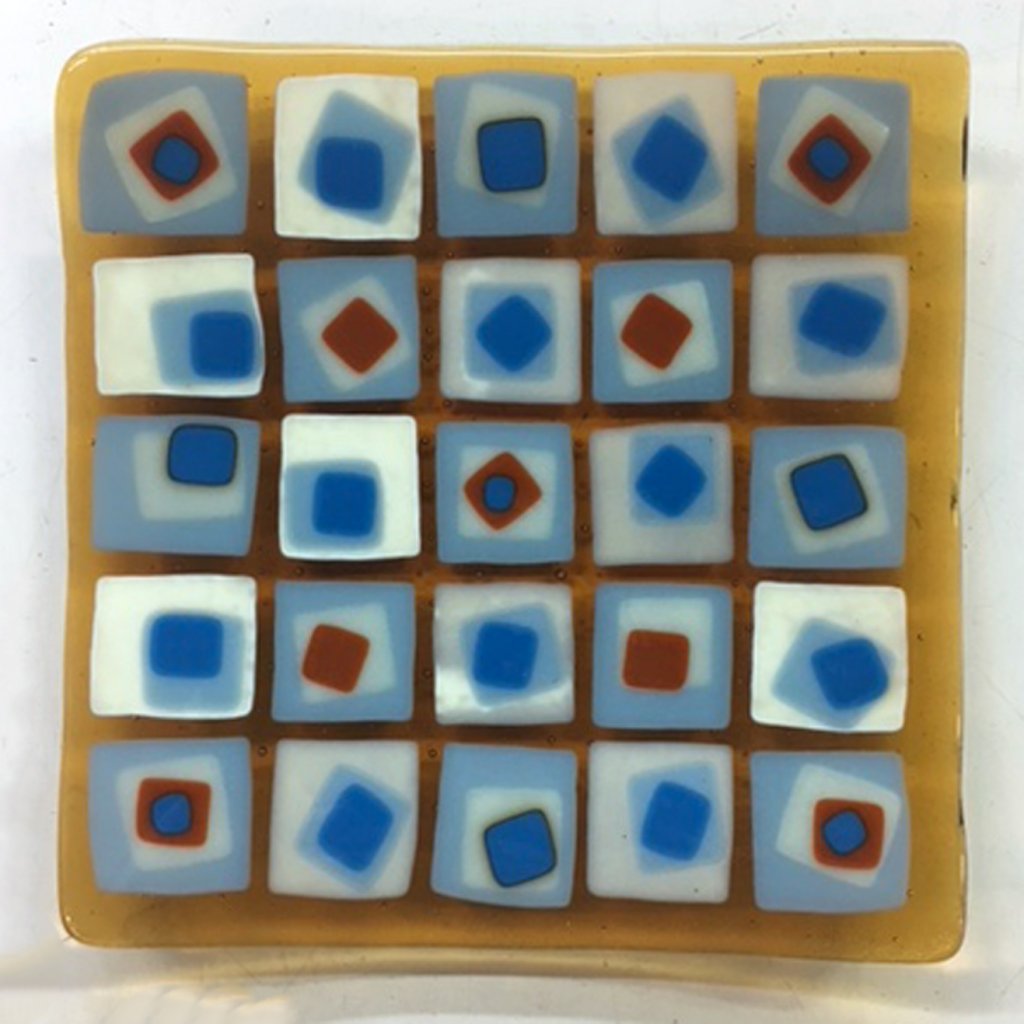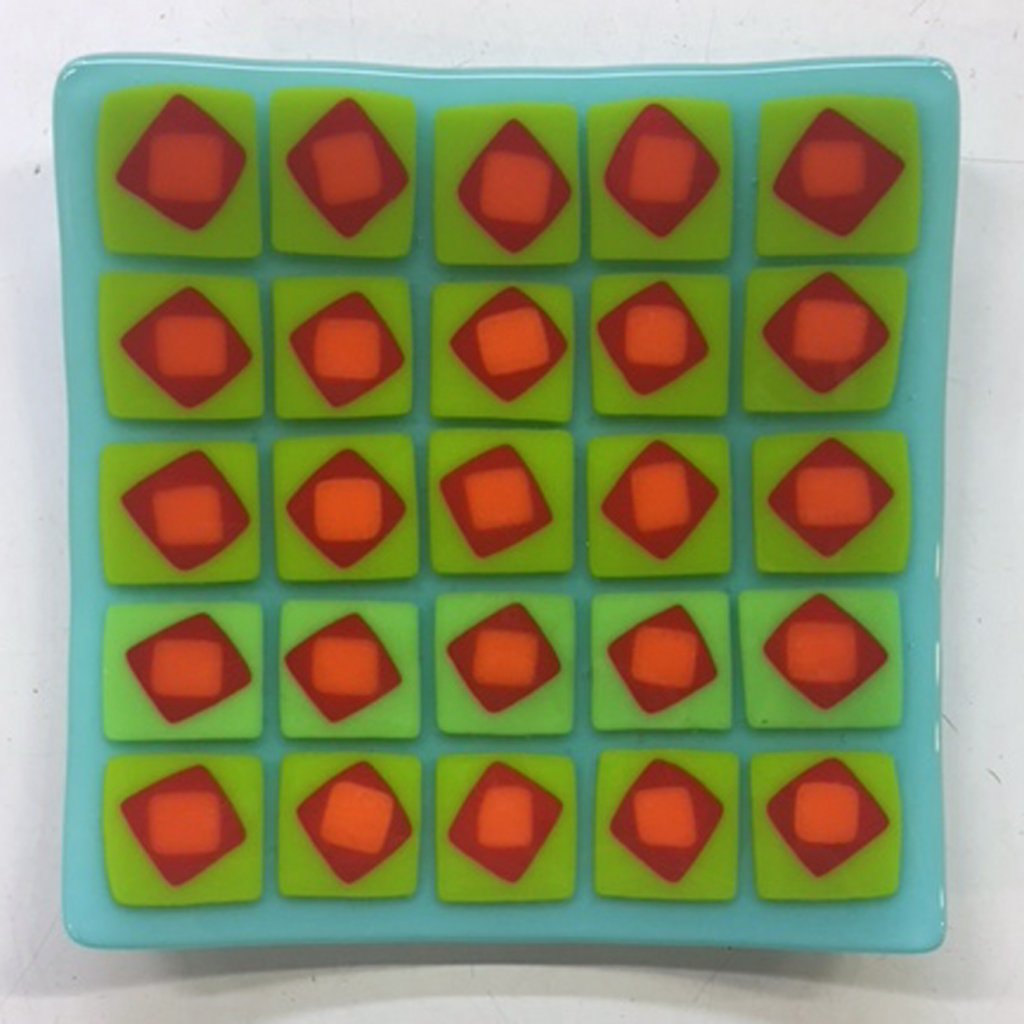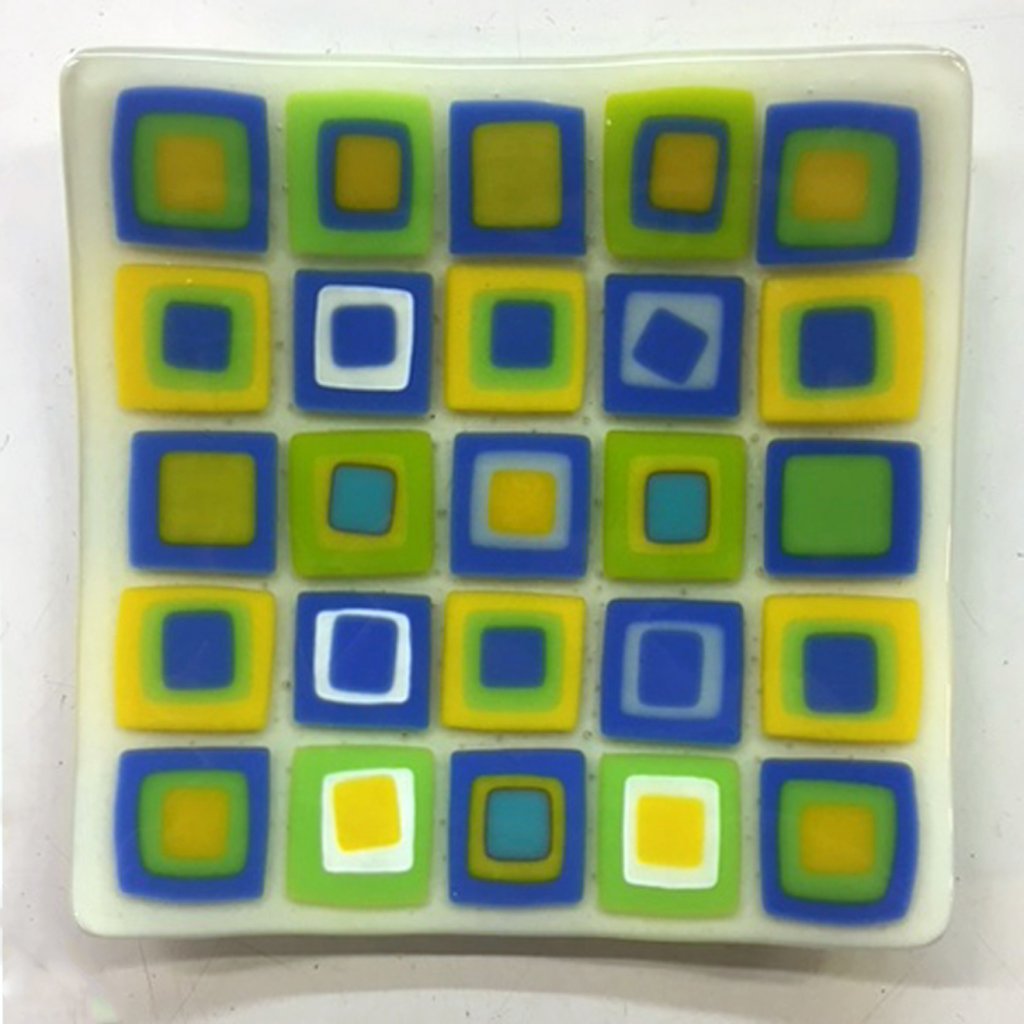 Project Plate Making: Dancing Squares
2½-hour workshop. Tuition $119.00; includes all materials and use of tools.

A great way to try your hand at fused glass, show family and friends how much fun glass art can be, or just a fun way to spend an afternoon with friends! Learn about the art of glass fusing while selecting from a wide range of color combinations to create your own custom Dancing Squares plate! Students will receive instruction, glass and other materials required to create their project; no need to purchase tools or materials. No previous experience is required- an excellent intro to the art of fusing!

Saturday, April 6, 2:30-5
One 2-hour lecture demo. Tuition $65.00.

One of the most basic of the kiln forming processes, slumping glass can be very complex due to the huge variety of forms. In this lecture Nancy Weisser will share her experience explaining firing theory as it applies to a multitude of slumping molds and techniques. Students will see a variety of ways and materials that can be utilized to make their own slumping and draping molds, and ideas for modifying and thinking outside the box when it comes to using ready-made molds. This is the perfect companion class to the Fire Up lecture!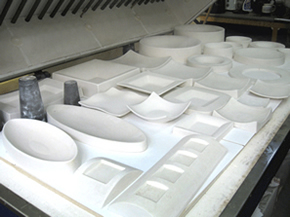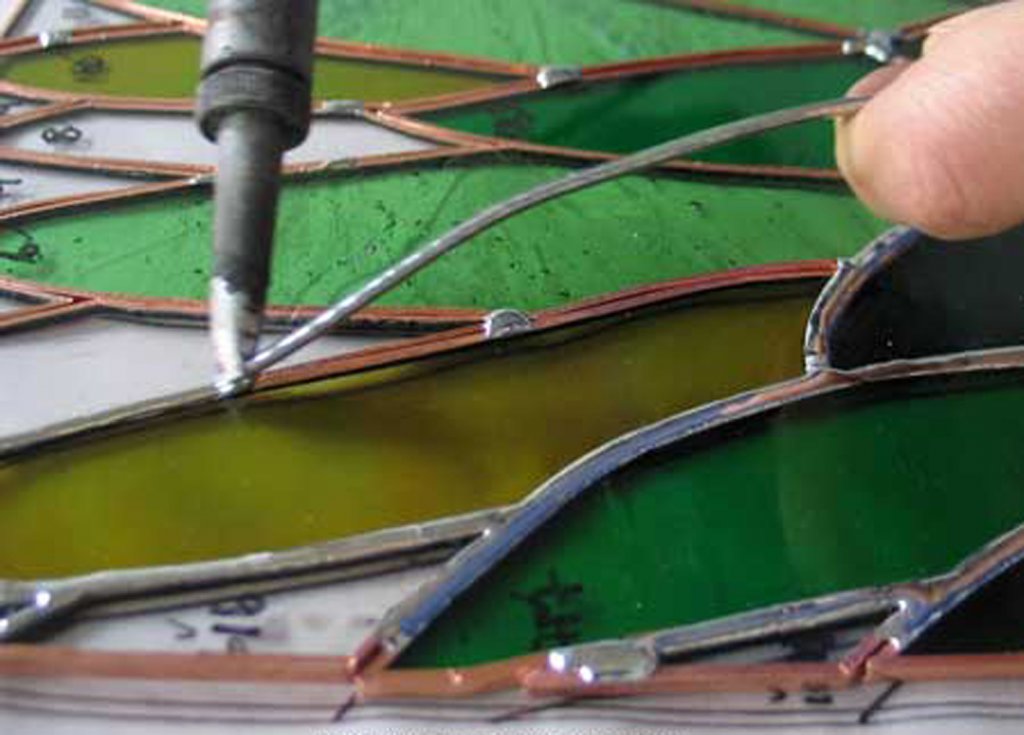 2½-hour class. Tuition $99.00. Students should bring their own soldering iron and some foil-wrapped pieces of glass to practice on.

Soldering is often the hardest part of the copper foil process for artists to master. Problems commonly encountered include poor solder flow, uneven and streaky solder beads, and difficulty getting the proper amount of solder onto the foil for a professional look. The good news is that all these issues can be overcome with the use of proper tools and technique! We'll cover the tips and tricks to making a smoother bead for a better- looking finish. Students will also learn how to manipulate the solder to create assorted decorative patterns to embellish projects. Guaranteed to improve the look of your solder line!

Saturday, April 27, 9:30-12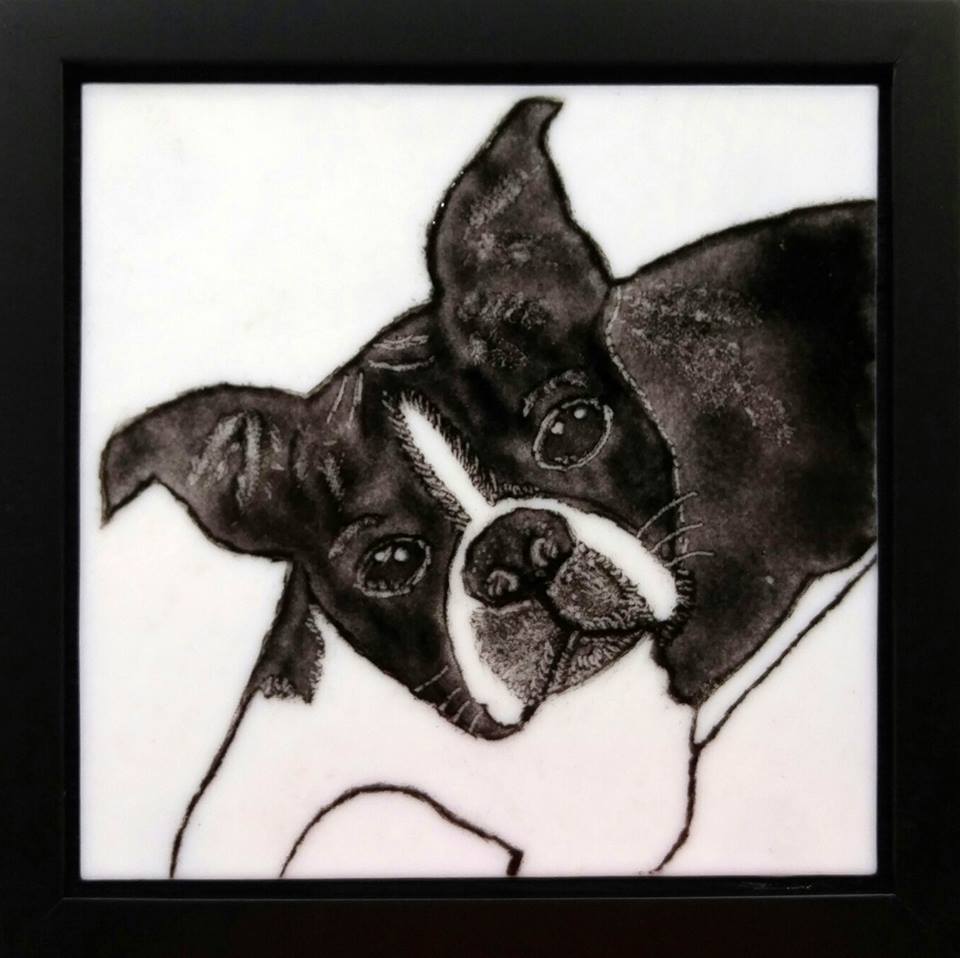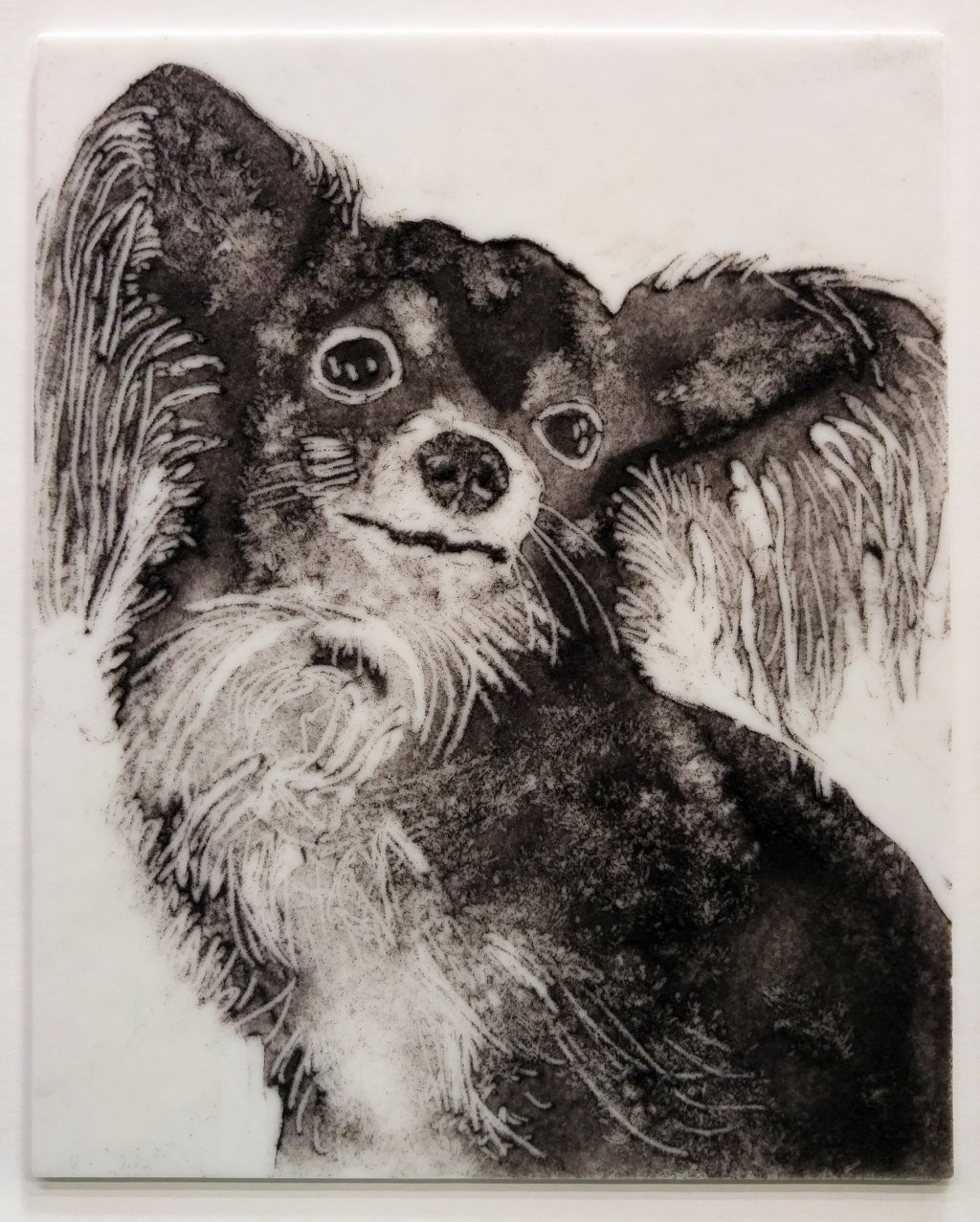 3-hour workshop. Tuition $99.00; includes supplies and frame.

Create a black and white portrait of a favorite pet or other animal using fusible glass powder! A great introduction to drawing with powders (have no fear-we will teach you), these creations also make amazing gifts for the animal lover in your life. Drawing experience is not required: we will give you tips, guidelines and techniques to assist you in creating realistic portraits. No previous glass experience is required, and all you need to bring is an 8"x8" black and white photo of your favorite pet! We will send you guidelines prior to class. Just look at what some of our students have created in previous sessions!
Saturday, April 27, 1:30-4:30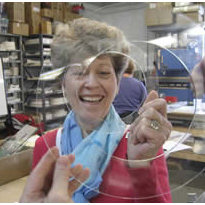 Mastering the Art of Cutting Glass III-
Around We Go: Circles and Holes in Glass
2½-hour class. Tuition $95.00; includes practice glass.

A lot of people find making circles and holes in glass to be very intimidating, but they don't need to be! In this class, we will teach you the tricks to cutting circles, small and large, successfully. We'll demonstrate the principles behind proper circle cutting, and how to overcome any problems you may be having. Students will also learn a variety of ways to create holes and openings in glass with tools like a Dremel, a drill press, and Ringsaw. You'll get lots of hands-on practice in this class!
Sunday, April 28, 9:30-12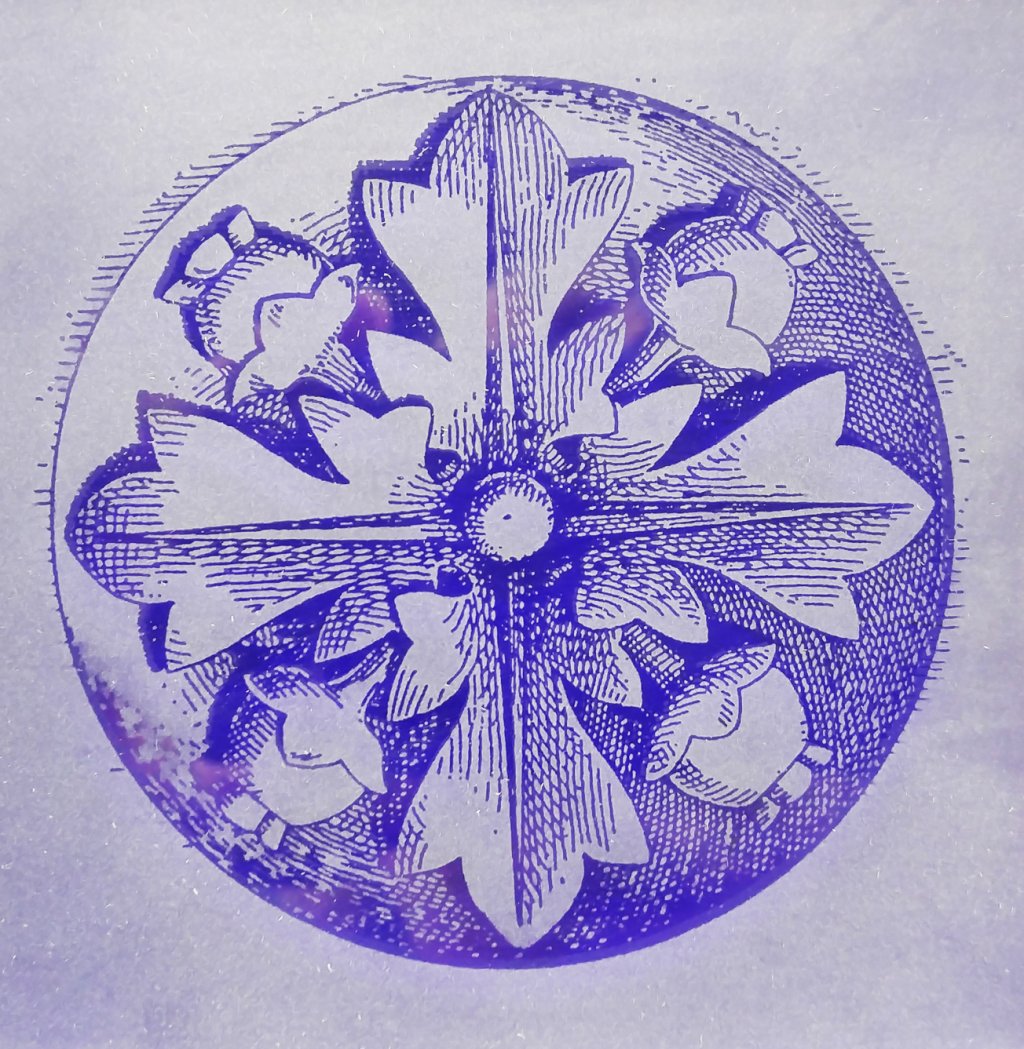 Photo-Resist Sandblasting
3-hour workshop. Tuition $115.00. Previous sandblasting experience recommended.
Learn the basics of this versatile technique! Easily transfer detailed and photographic images to a sandblast resist for etching using a light-sensitive film. Image preparation, film exposure, and film application will be taught. Each student will make their own sample piece and see examples of other various ways to apply this process to glass creations.

Sunday, April 28, 1:30-4:30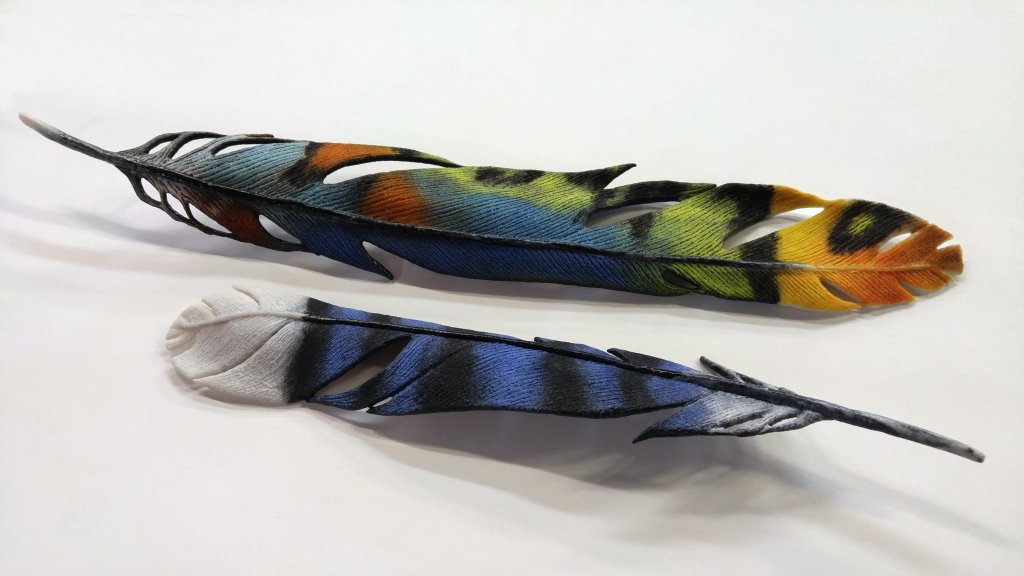 Modeling Glass: Feathers and More with Lois Manno
EXPANDED FORMAT FOR 2019!
Three-day workshop. Tuition $725.00.
We're pleased to welcome Lois Manno back to the Weisser Studio to teach her revolutionary glass sculpting process in a new expanded format workshop!
Over the past five years, Lois Manno has focused her creative energy toward developing a different way to work with powders, one that opens an entire new world of creativity. Traditional techniques of working with frit and powdered glass to create three-dimensional objects tend to be labor-intensive, in the extensive amount of mold-making and painstaking packing required of pâte-de-vérre techniques.
Lois has developed a medium system that turns messy powder into a manageable material with the consistency of clay. The resulting Modeling Glass™ has a smooth, firm texture that stores almost indefinitely! Over the last year since it has become available, more and more artists are turning to Modeling Glass as an easy-to-use alternative to casting techniques to create detailed, highly textured imagery in kiln formed glass. It requires no freezing or molds, the material can be thinned with water to create a variety of effects, and much of the cleanup of the pieces can be done when dry and before firing, which nearly eliminates the need for coldworking. Modeling Glass can hold a great deal of detail at lower temperatures and can also be used to create interesting effects at higher fuse temperatures. It's possible to do things quickly and easily that would normally take many hours of studio time.
Lois will teach her method of mixing Modeling Glass and students will learn step-by-step how to use the material to make their own realistic glass feathers. Her feathers have become renowned in the glass community for their detail and realism, and students will learn how to use Modeling glass to create their own! Students will also create two other projects to learn other ways this remarkable material can be used; a sculpted glass tile and a sgraffito project combining enamels and Modeling Glass. The potential of working with glass in this way is nearly unlimited and open to further exploration and invention.
Display methods will be discussed and demonstrated. Firing schedules will also be provided.
Friday, May 3- Sunday, May 5, 2019
Friday- Saturday, 9:30-5 each day, Sunday, 9:30-3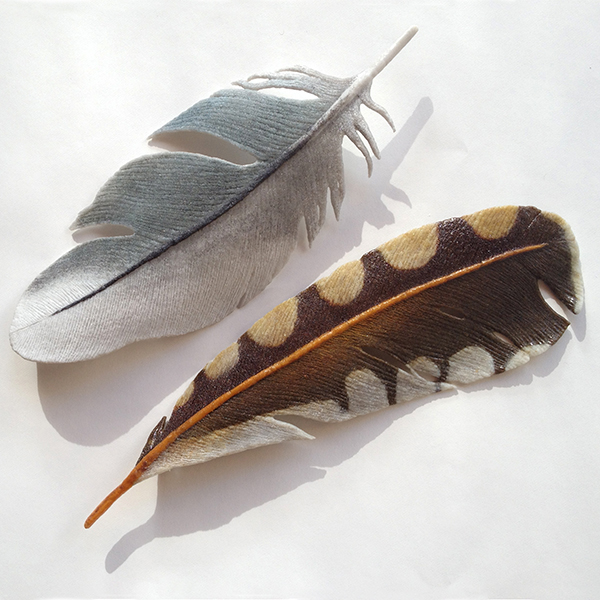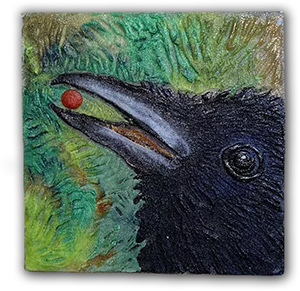 ABOUT THE ARTIST
Lois Manno is a lifelong fine artist and award-winning writer, but fused glass has become her favorite medium. Her work is in several galleries across the country, and she is represented in many collections, including the Department of the Interior. She has been a guest blogger for Bullseye Glass and has devoted herself to perfecting Modeling Glass over the past several years. Lois is excited to share this new product with the glass community and can't wait to see what creative doors it will open. View more of Lois' work on her website at www.glassbirdstudios.com and on Facebook at Glass Bird Studios
.
FOR THE FIRST TIME IN WEISSER STUDIO, WE WELCOME STAINED GLASS ARTIST JOSEPH CAVALIERI!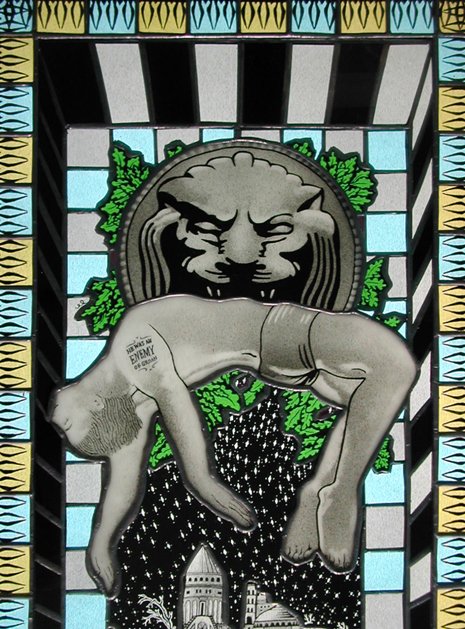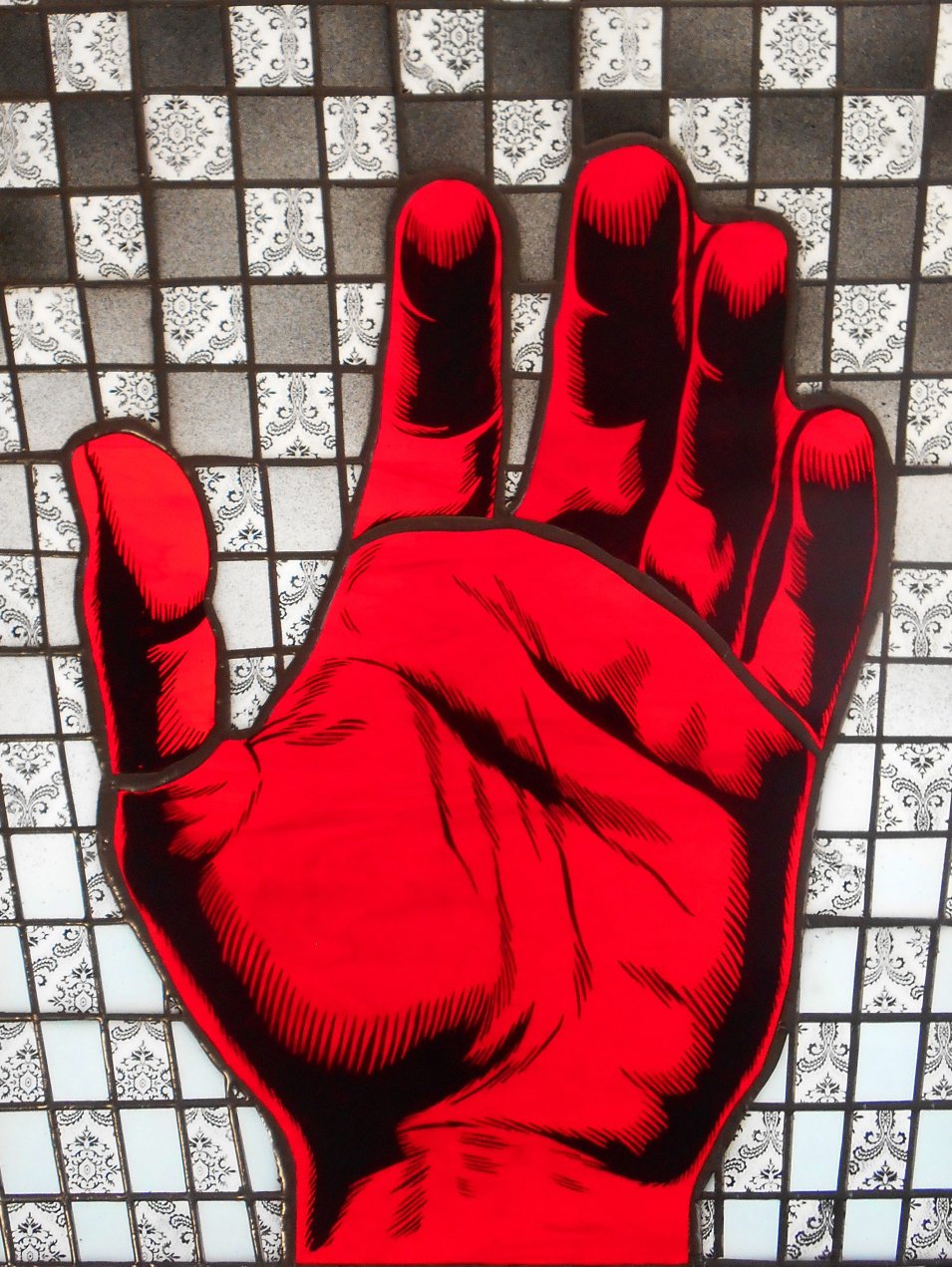 NEW CLASS!
Narrative Stained Glass with Joseph Cavalieri
4-day workshop. Tuition $895.00 plus a $75.00 material fee due at class. All supplies and use of tools during class provided.
Previous knowledge of stained-glass technique is recommended. Prior drawing or painting experience is NOT necessary!
A $445.00 deposit is required to reserve your spot; tuition balance of $450.00 is due March 15, 2019. The $75.00 material fee will be due the first day of class.
An innovator in the stained-glass world, Joseph Cavalieri's work strives to take the art of stained glass out of the cathedral and bring it into everyday life. Joseph is a master of blending traditional stained-glass process with dynamic and imaginative imagery based in pop culture themes. This class is ideal for the artist who knows the basics of stained glass and wants to take it to a whole new level.
In class students will explore Aesop's Fables as subject, selecting a story to base their work on. Then, with Joseph's guidance they will create a glass panel approximately 12"x12" using the copper foil technique. Students will learn different processes to create imagery on the glass using kiln-fired paints, including painting, airbrushing, pen-and-ink style drawing, and sandblasting. Once the imagery is complete and fired, students will assemble the panels using the copper foil method of construction to create a finished piece.
In addition to the class curriculum, Joseph will be offering advice on marketing for artists and seeking out and applying for artist residencies.
Wednesday- Saturday, May 15-18, 9:30-4:30 each day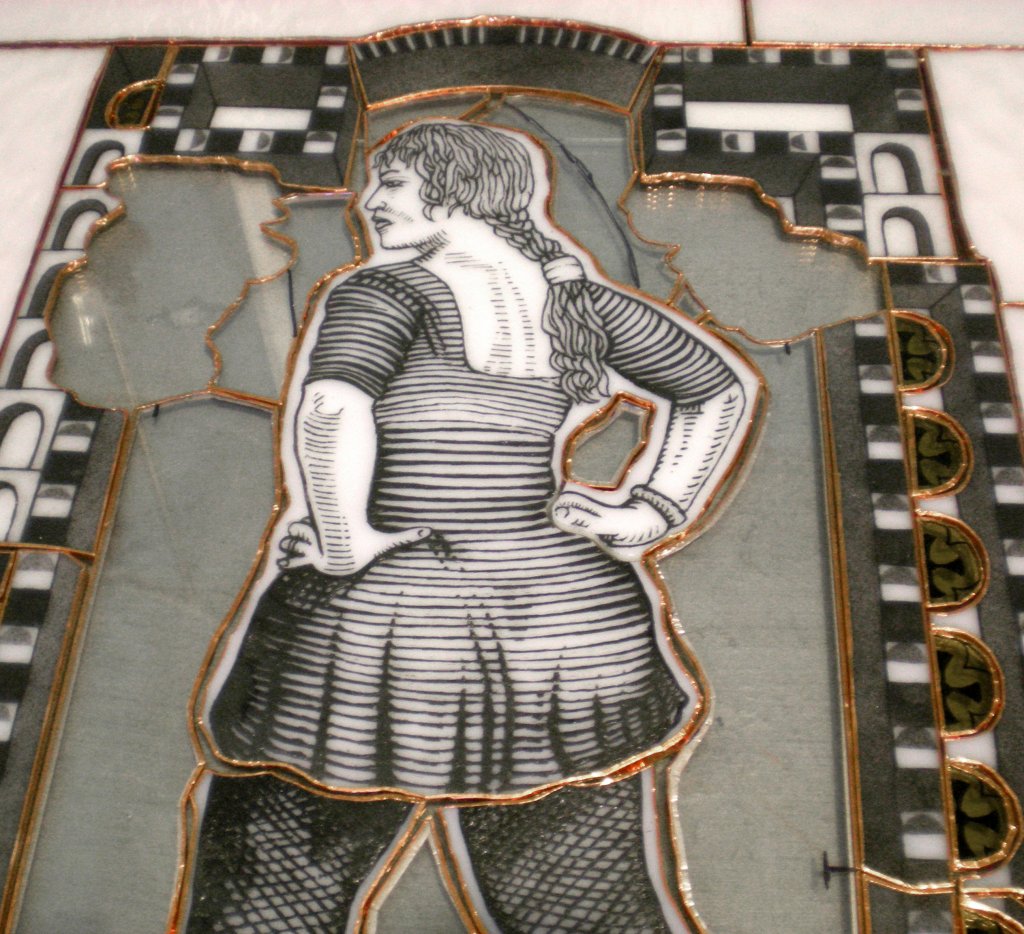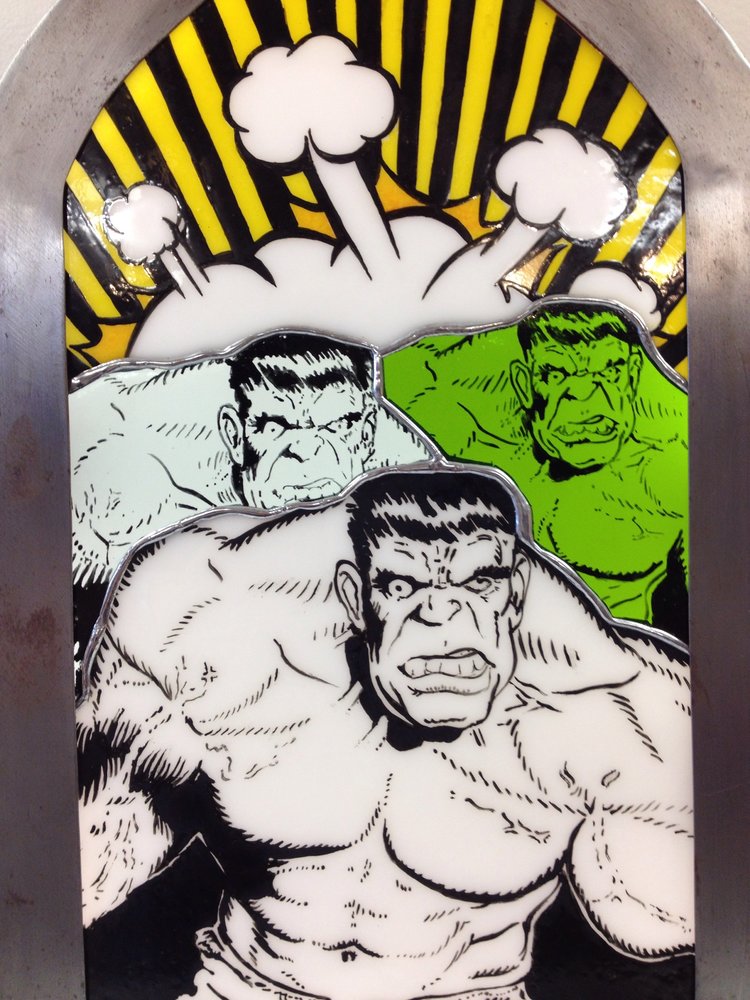 ABOUT THE ARTIST

Joseph Cavalieri's glass art is at the intersection of mystical and post-cultural. His beautifully stained and painted pieces are at once an homage to traditionally religious stained-glass art and a cheeky discussion about the pop culture we know and love.
He is based in New York City, and has completed commissions, residencies, and staged exhibits all over the world. You can see more about him and his work at
cavaglass.com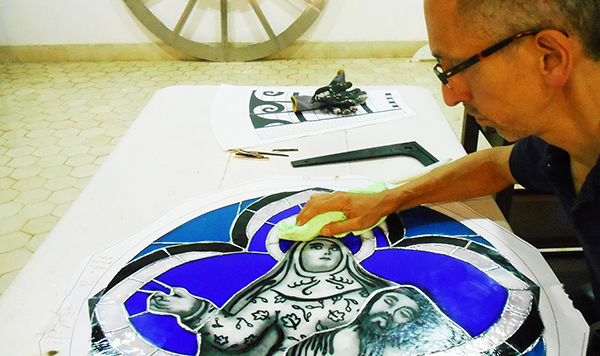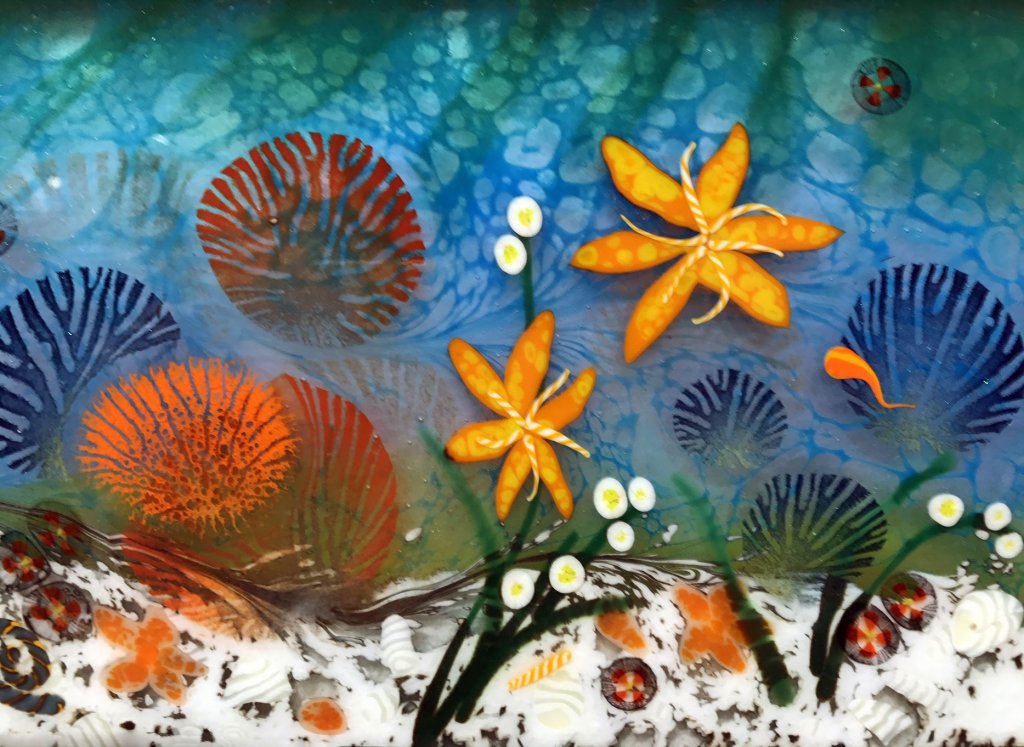 Dream Garden
Master Class with Nancy Weisser

5-day workshop. Tuition $1,095.00; includes materials, use of tools and equipment, etc.


A deposit of $545.00 is required to reserve your spot; tuition balance of $550.00 due April 1.

Nancy will reveal her process of creating fantastical gardens and imaginary underwater scenes. This will be a multi-step and multi-element process that will include many techniques and use of various vitreous materials. Glass forming techniques taught will include: vitrograph, working over a torch, making frit from the kiln, crafting part sheets, and other methods for generating a variety of visual effects with frits, powders and dry enamels. Students will be asked to create from their imagination, learning to trust their own instincts and rely on information that already exists in the mind. Emphasis will be placed on creating spontaneously and improvising while exploring design, color and layering steps. This class is ideal for students that are open to the creative process, interested in learning new forming methods and constructing a progressive piece of art that represents their individual style. Finishing and presentation options will be covered as well. Each student will create two finished artworks, a flora dream garden and an underwater dream garden.

Wednesday- Sunday, June 5-9
Wednesday- Saturday, 10-5 each day, Sunday 10-3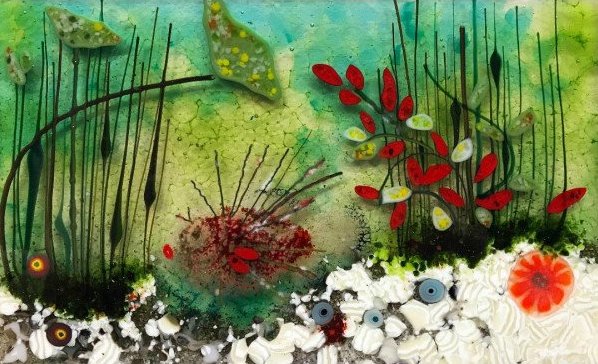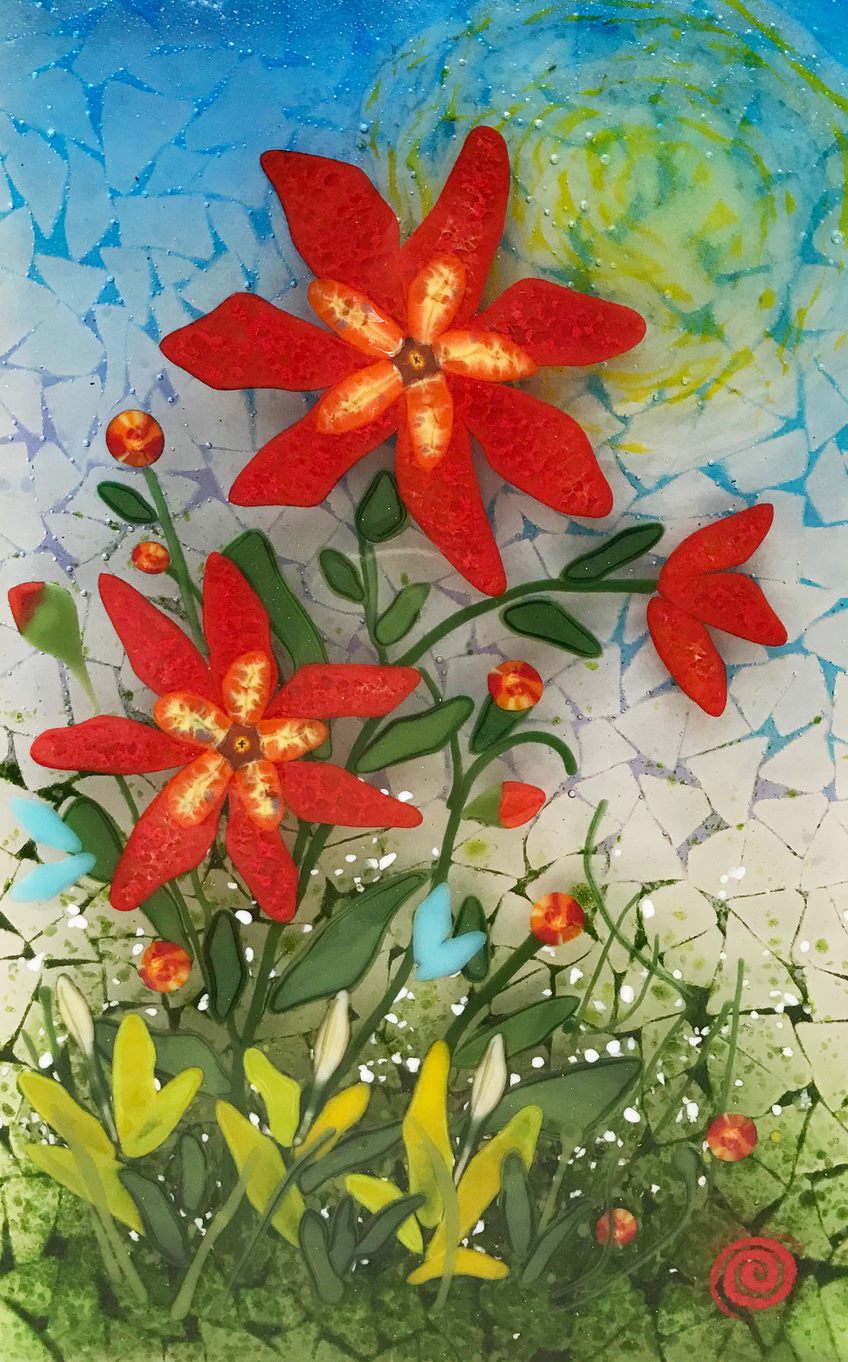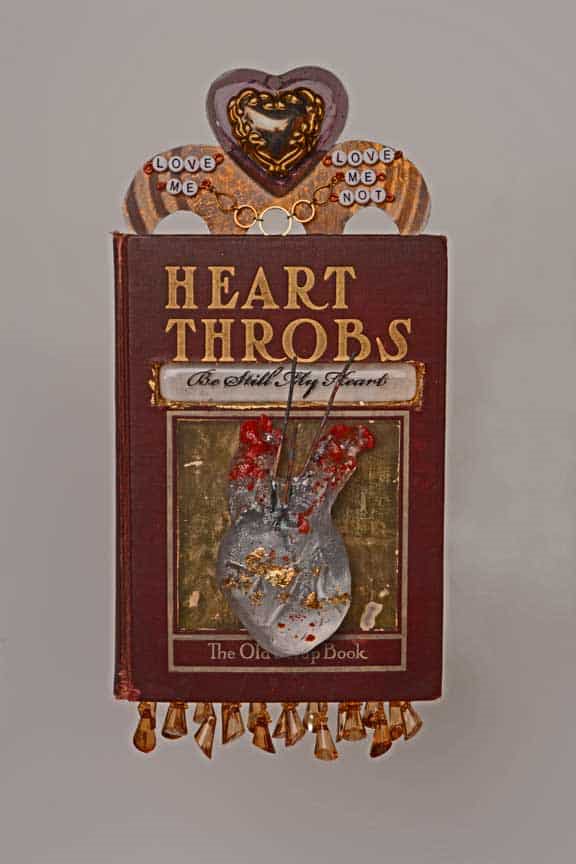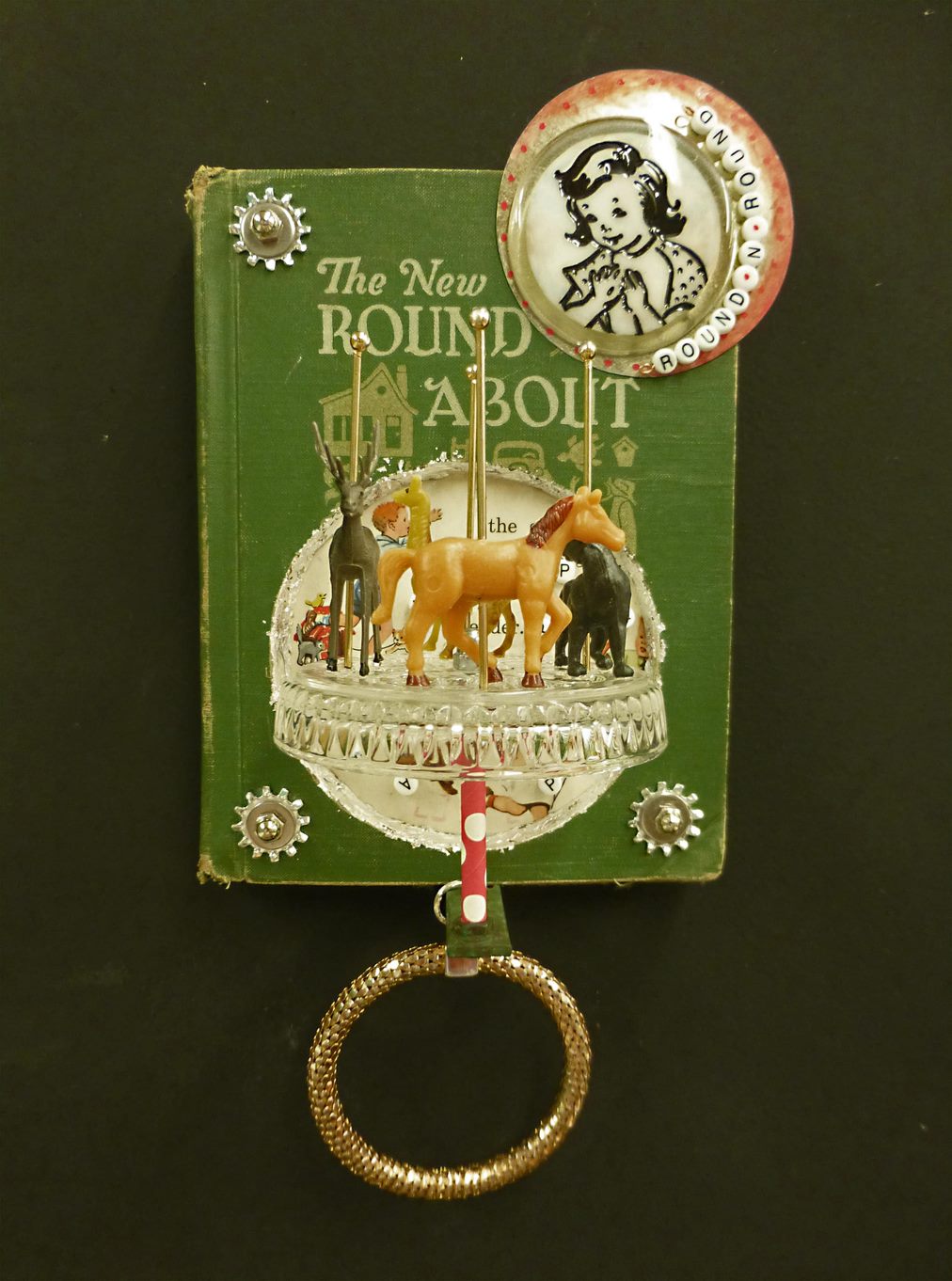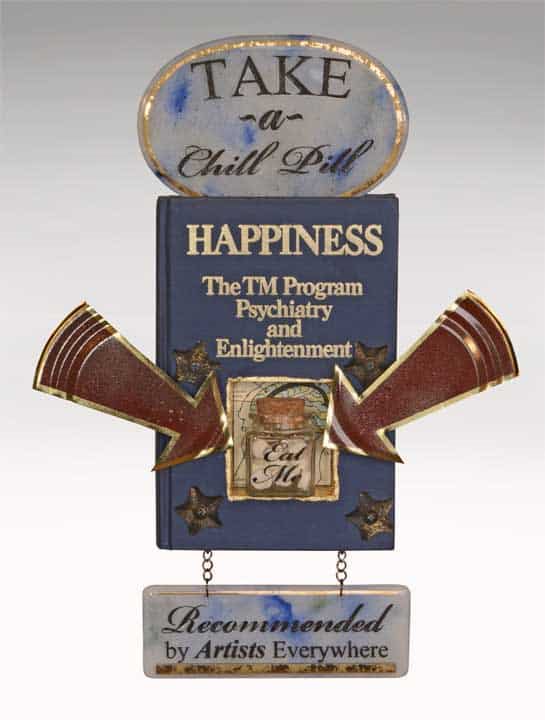 NEW CLASS!
The Altered Book + Glass with Susan Taylor Glasgow
Three-day workshop. Tuition $695.00; an additional material fee of $50.00 is due first day of class.
A deposit of $345.00 is required to reserve your spot; tuition balance of $350.00 will be due April 1, 2019. The material fee of $50.00 will be due the first day of class.
Weisser Glass welcomes Susan Taylor Glasgow back to the studio with this new action-packed workshop! Students will use a book as the foundation for a mixed media and glass sculptural assemblage. Various glass processes will be taught for making components for the works. Open face casting, silk-screening with enamels on glass, and applying text and imagery in and on glass will be taught. A variety of joining techniques, adhesives,and methods for incorporating concept and narrative will also be covered.This class will explore the qualities that strengthen visual impact and the message of an artist's work, while embracing happy explorations in creativity. Susan is such an accomplished artist with so much advice to offer- you should not miss this chance to study with her. Plus, you will walk away with a unique altered book sculpture and the confidence to take mixed media further in your own practice.

Thursday, June 13- Saturday, June 15, 9:30-5 each day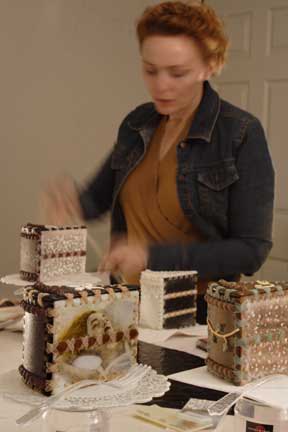 ABOUT THE ARTIST

Susan Taylor Glasgow's work pays extensive tribute to the era of Mother, Father, Lucy, Ozzie and Harriet in a language composed of images appropriated from the world of '50s and '60s TV and advertising. She says she "sews, cooks and arranges" glass to reconcile the conflict over work and home, feminist ideals and the Madonna complex, duty and fulfillment. The bustier forms of her Chandelier Dresses are a fantasy, which reminds us of the way things never were.

Glasgow grew up in Duluth, Minnesota. She graduated from the University of Iowa with a BFA in Design. Her sculptures are included in the collections of the Arkansas Arts Center, Little Rock, AR, the Alexander Tutsek Foundation, Münich, Germany, the Carnegie Museum of Art, Pittsburg, PA, the Chrysler Museum of Art, Norfolk, VA and the Museum of American Glass, Millville, NJ. Susan Taylor-Glasgow lives and works in Columbia, Missouri.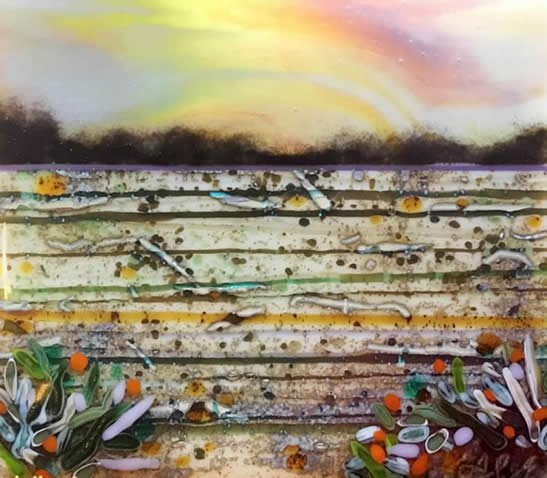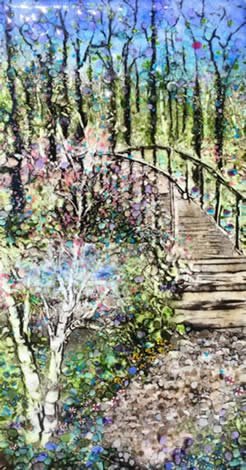 Telling the Story in Glass: Fused Glass Sgraffito Drawing with Kelly Crosser Alge
3-day workshop. Tuition $695.00; includes materials and use of tools. Previous drawing or glass experience is not required, but an open mind and some fusing knowledge is helpful.
A deposit of $345.00 is required to reserve your spot; tuition balance of $350.00 will be due May 1, 2019.
This intensive workshop will teach the use of glass powders to draw two-dimensional imagery in glass. This is meant to be a 'crossover' course, joining elements of fine art and fine craft together. Students will explore traditional ideas of drawing and using a very non-traditional approach; using glass to interpret line, value, contrast, texture, color, movement, gesture, narrative, and composition. If you think you can't draw, this class is for you!
In addition to learning simple 'tricks of the trade' and improvised technical drawing skills, students will have the freedom and individual encouragement to experiment with using glass to create drawn imagery that tell a story, evokes emotion, and expresses mood. Other topics covered in the workshop will include: kiln-formed canes and murrine, collage part sheets for sgraffito drawing, tool making, incorporating color, reactive glass, volume control, firing schedules, and finishing. By the time students leave, they will have gained a new awareness of the visual language that is possible with kiln-formed glass, as well as confidence in their ability to "see" as an artist.
Thursday- Saturday, July 11-13, 10-5 each day
ABOUT THE ARTIST

"Glass has gripped me from day one. In its many forms, glass is the one medium that has allowed me to create using combinations of art techniques I love from other media. Collage, drawing, sculpture, printmaking, painting, photography, and design... all come together with glass and heat as common ground.
"I'm a self-taught glass artist, specializing in fused glass sgraffito drawing and collage.
"I studied studio art for 4 years in the BFA program at Ohio Northern University, where I focused on ceramics, figure drawing, and watercolor before leaving school to start a family. My first experiences and adventures in glass began after college in 1995. I saved money from teaching art to groups of homeschooled students and purchased a tiny kiln, and the glass experimenting bonanza began in my garage. My favorite way to work with glass is a method I call 'glass powder sgraffito drawing'. You can read more about my work and the technique I use in this recent article: Making Art from Scratch"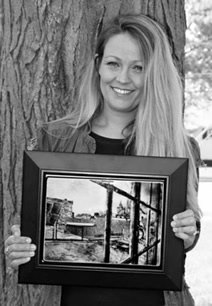 Our good friend and renowned glass painter, Mark Hufford, returns to Weisser with two BRAND NEW CLASSES!
Mark is generous with his knowledge and nurturing with his students, giving personal attention to help individuals become comfortable with the products and how to use them. Students enjoy his classes so much they frequently return year after year to study with this master.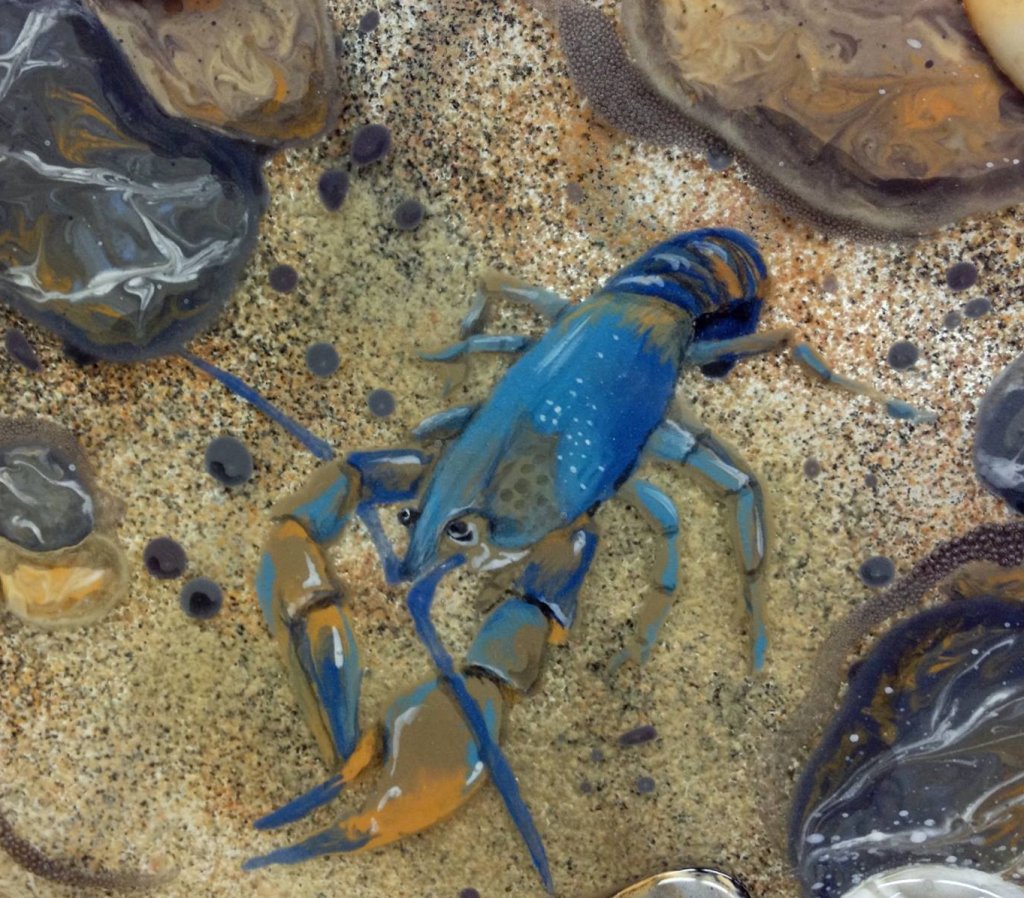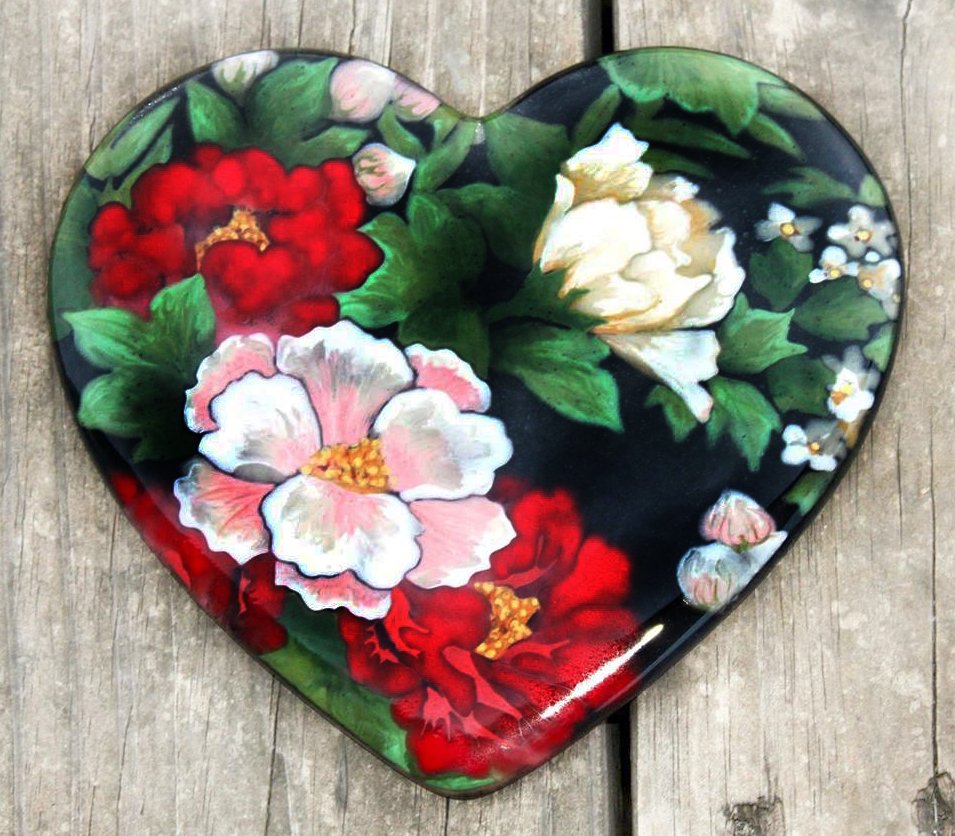 NEW CLASS!
A Comprehensive Guide to Colors for Earth with Mark Hufford
3-day workshop. Tuition $695.00; includes materials and use of tools. NO PRIOR DRAWING OR PAINTING EXPERIENCE NECESSARY!
A deposit of $345.00 is required to reserve your spot; tuition balance of $350.00 will be due June 1, 2019.

Colors for Earth has a huge range of versatile fire-in paints and supplements that can create virtually any effect you could imagine. But where do you even begin…? Mark Hufford will share his amazing talent and depth of knowledge of these products in this fun and action-packed class, and pass along his tips and techniques to his students. If you've ever wanted a skilled master to show you how it all works, this class is for you!
Suitable for every level of artist, Mark has designed this workshop to showcase the different products that Colors for Earth makes and the endless creative possibilities that can be achieved with them! Students will create many 4" sample tiles with Colors for Earth Glass Enamels, Outline and Piping Paste, BubbleArt, Sparkles, and Color Concentrates. By creating this series of samples, students will learn the many ways these products can be used, both through single-layer application and with multiple layered surfaces.
In addition, Mark will provide information on firing, do's and don'ts, and making repairs on fired glass pieces. Students will explore the use of patterns, guides, photo references and how to best determine the method for transferring of images to the glass in preparation for painting. This is a thorough and comprehensive guide to Colors for Earth products and their assorted uses; a fantastic starter class, or thorough refresher for returning students. All levels welcome!
Wednesday, August 21- Friday, August 23

Painting on Powder: Watercolor Effects with Mark Hufford
3-day workshop. Tuition $695.00; includes materials and use of tools

A deposit of $345.00 is required to reserve your spot; tuition balance of $350.00 will be due June 1, 2019.

A new method developed by Mark Hufford and covered briefly in his new book, "The Art of Fused Glass Enamel Painting"!
Watercolor painting achieves its unique beauty through a series of transparent color applications onto a surface that provides luminosity as light reflects up through the color layers. Mark has created a technique that makes this possible in fused glass by painting on a prepared powdered frit surface!
In this workshop, students will use translucent underglazes to create soft watercolor-style landscapes on powdered frit. Various applications of colors onto the powder will be explored, as well as adjusting firing schedules to achieve different results.
Students will each create their own watercolor-style landscape, in addition to two smaller pieces. (Information on landscape images to bring will be provided prior to class)
Saturday, August 24- Monday, August 26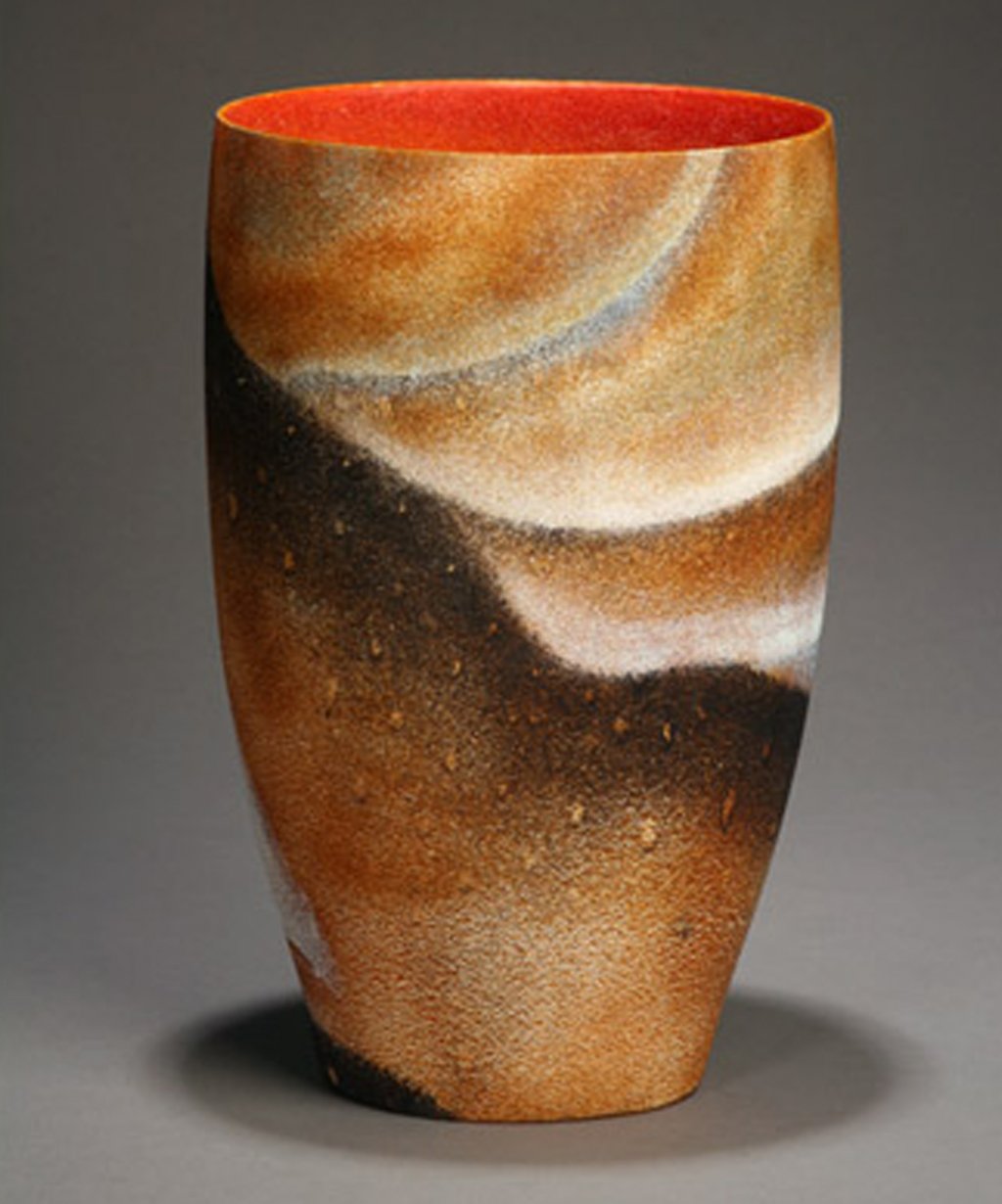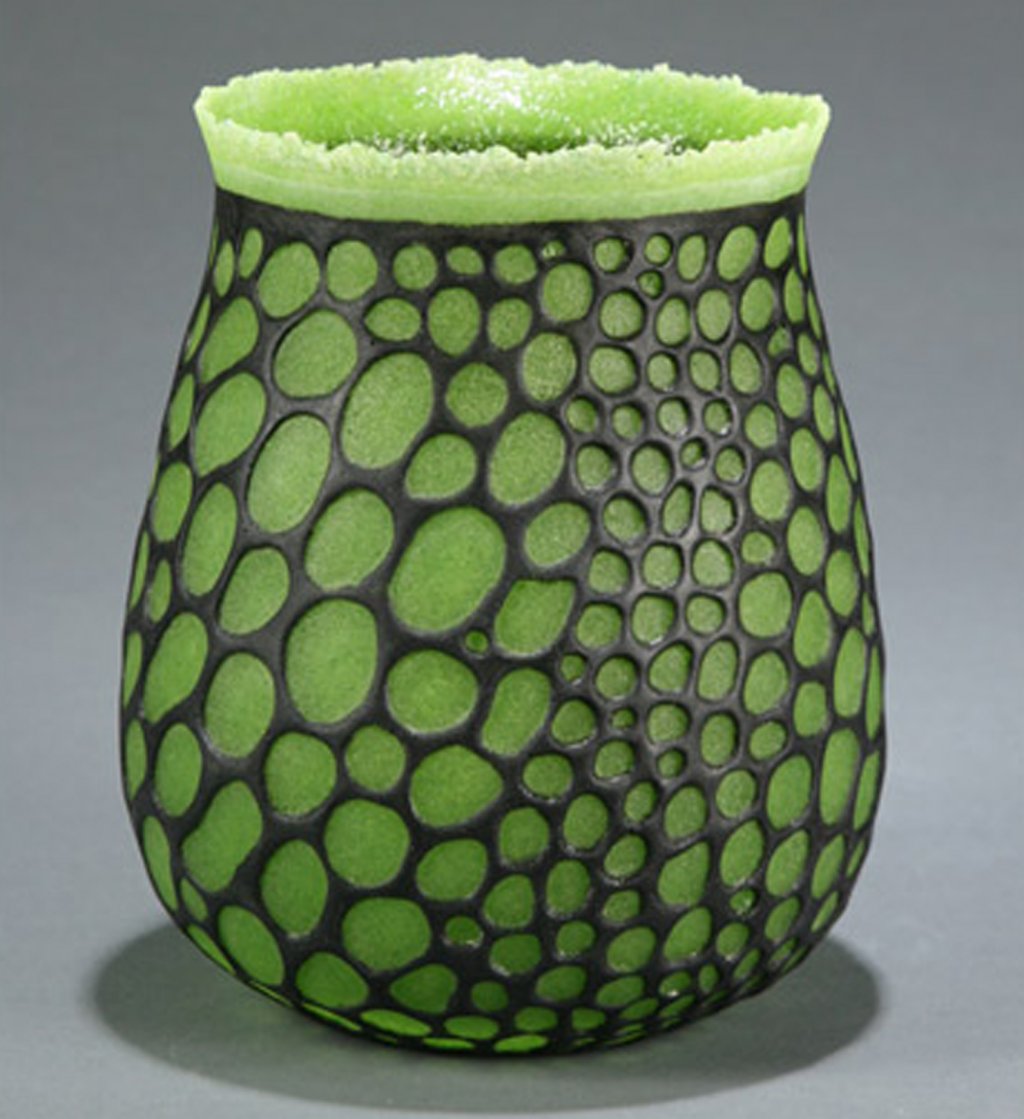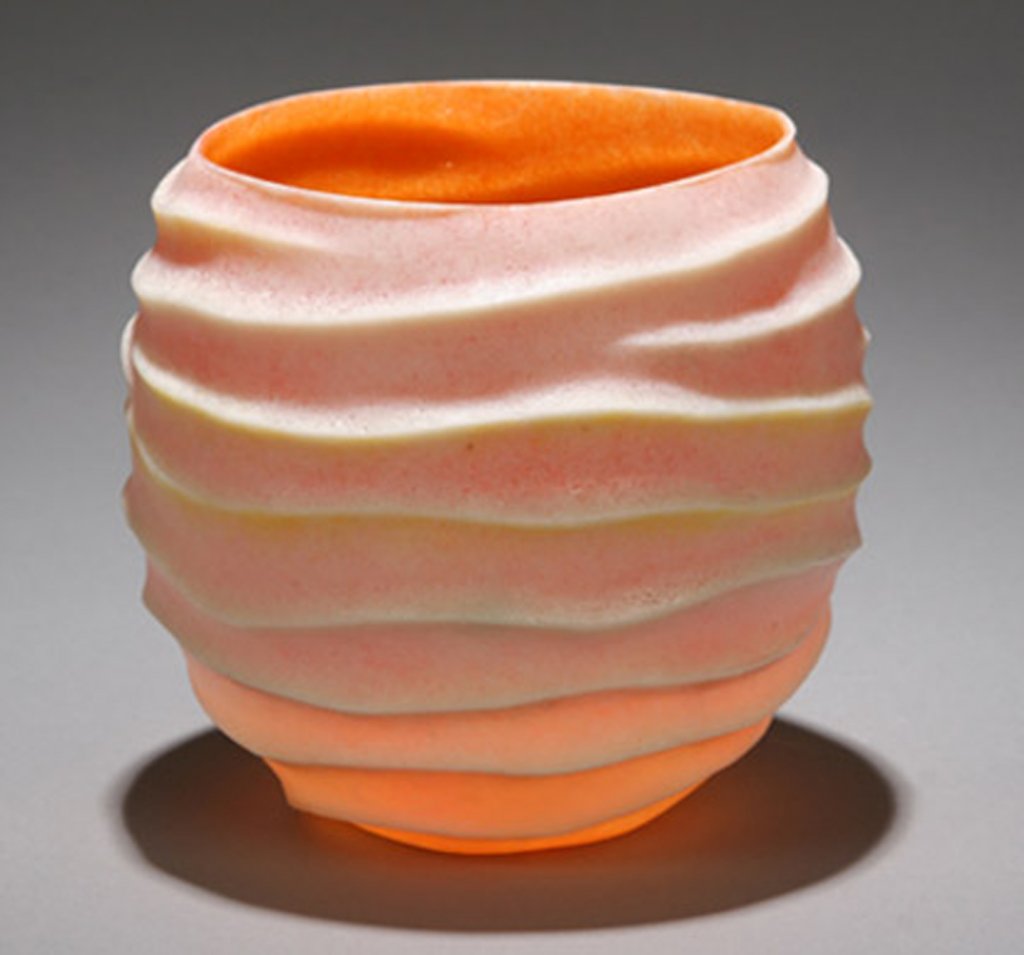 Contemporary Pâte-de-Vérre Forms with Alicia Lomné
5-day workshop. Tuition $1,150.00

A deposit of $580.00 is required to secure your spot. Tuition balance of $570.00 is due July 1.
Suitable for all levels of experience; returning students are encouraged to sign up!
We're thrilled to have Alicia Lomné return to teach her unique approach to the ancient art of pâte-de-vérre. Alicia employs her own signature style to create stunning, delicately detailed vessel forms. In this class students learn how to create molds from models they hand build in class. Then Alicia teaches her methods of hand-packing layers of colored glass frit and powder into the mold making a tremendous range of color and design options possible.
This class will provide a solid base of technical information, and students will explore a variety of casting processes used by Alicia in creating her vessel forms. This will include model making, mold construction, color mixing, and color placement. She will also cover the use of inclusions in the mold; returning students will be encouraged to further explore these types of structures in their pieces. Discussions will cover firing schedules and the use of temperature to attain specific effects.
Students new to this technique will receive all the information they need to work on their own after the class and returning students may continue their study by working with more involved designs. By the end of this class, you will feel confident in making a mold, packing it with glass, and then programming and firing on your own.
Wednesday- Sunday, September 18- 22
Alicia Lomné, has dedicated the past ten years to exploring techniques in pâte de verre. She shows her extraordinary work in galleries across the U.S. and has taught pâte-de-verre workshops across the country and the globe including Anla Glass (Denmark), Creative Glass (Switzerland), Pilchuck Glass School, Penland School of Crafts, the Corning Museum Studio and Bullseye Glass Co. Lomné lives and works in Tacoma, Washington. You may see more of her work at alicialomne.com.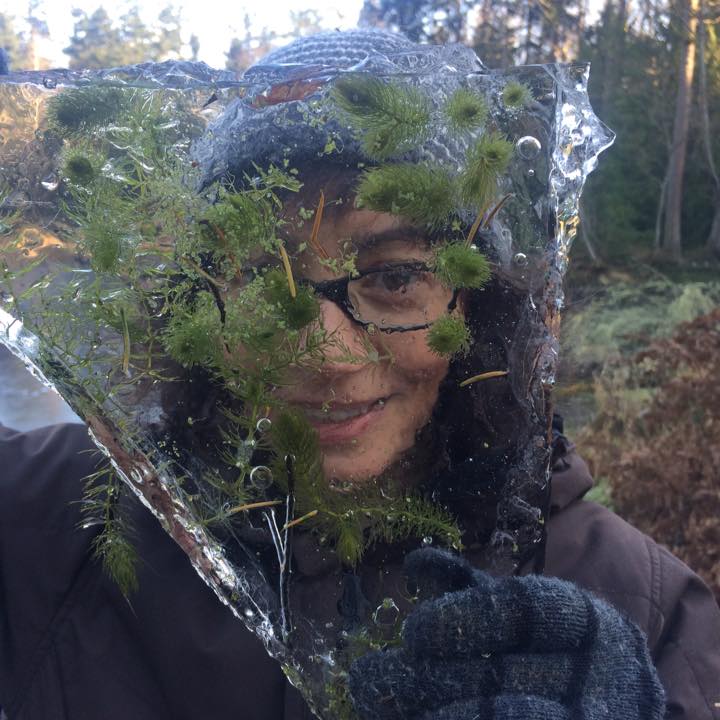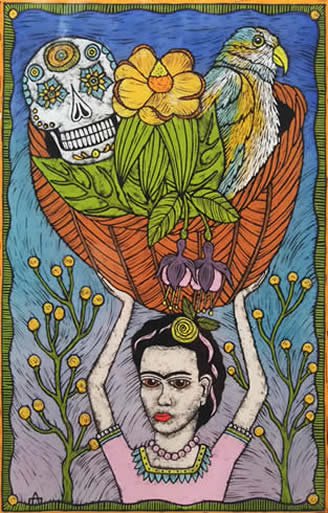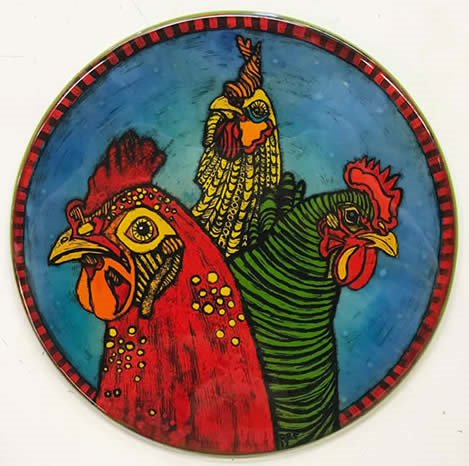 Reverse Glass Painting and Design with Cheryl Chapman
3½-day workshop. Tuition $795.00; includes materials and use of tools.

A deposit of $395.00 is required to reserve your spot; tuition balance of $400.00 due August 1.
We're excited to welcome glass painter Cheryl Chapman to the Weisser Studio! Take your glass art in a new and exciting direction. Enamel painting on glass is a fun way to use clear glass to create unique, stunning and surprisingly detailed images. Opaque glass enamels have a bright luminosity and reflective quality all their own. Unlock the secrets to mixing Fusemaster high fire opaque enamels with both oil and water mediums, working in reverse, the texturing style of grisaille and the stages of applying colored enamels, layering glass and firing to a finished piece. Cheryl will work with you on your personal imagery working from a sketch or photograph developing your design and finished project over three and a half days using Cheryl's multi-stage techniques to create your piece of art. The focus of this class is on the technical skills so you will be able to take your knowledge home to develop your glass painting style. Each student will complete an approximately 9" tile or bowl as well as practice pieces.
Thursday- Sunday, October 3-6
Thursday, Friday, Saturday, 9:30-4:30 each day, Sunday 9:30-12:30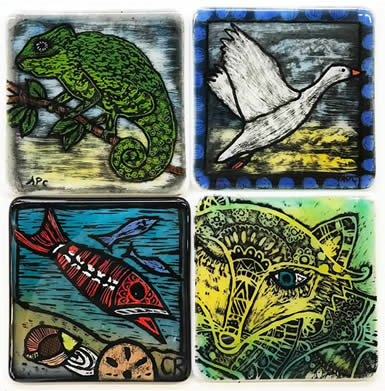 ABOUT THE ARTIST

Cheryl Chapman is the owner-artist of Silly Dog Art Glass Studio and enjoys creating pieces of art that convey realism mixed with a splash of whimsy. Cheryl currently divides her time between painting, spending time with her animals and husband and traveling.The Chapmans recently relocated to La Pine in central Oregon and look forward to what will inspire more art in this beautiful community.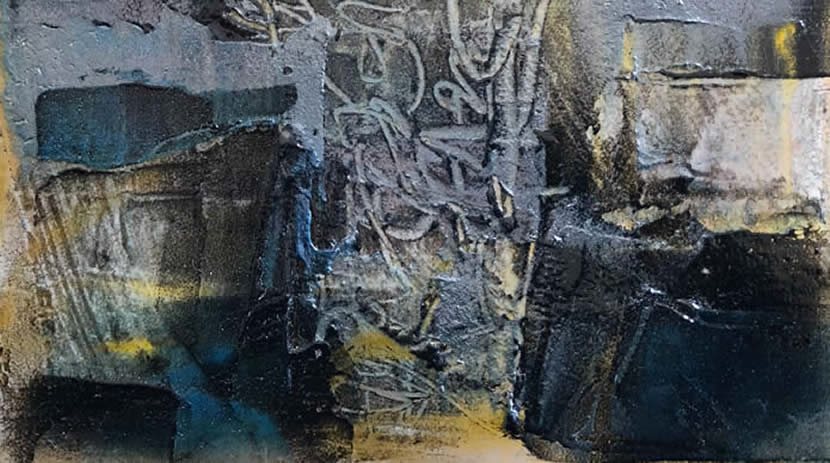 Master Class in Painterly Glass with Kari Minnick
5-day workshop. Tuition $1,095.00.

A deposit of $545.00 is required to reserve your spot; tuition balance of $550.00 due August 1.
Prior glass experience is beneficial but not required.
What is painterly glass? A two-dimensional glass composition or panel using glass materials to achieve a painterly or painting-like quality. But…WE WILL NOT USE PAINT!
We will use Bullseye glass, powder, frit and stringer to simulate paint and highlight the unique qualities that working with glass brings to the process. Gritty, slick, or robust relief, kilnforming materials and processes give us a vast range of painterly styles from creamy impasto to ephemeral watercolor washes. Students will learn painterly effects by utilizing unusual wet and dry powder processes, multiple firings and careful temperature control.
Painterly glass is more than the techniques used to achieve it. It is a mindset; a consideration of "the big picture"; layer by glass layer. Students will explore technique that supports strong composition, rich surfaces, and depth. Color, composition, and the effective use of opacity and transparency will be considered. Students will develop ideas through preliminary sketches, paper cut outs and/or test pieces leading to the completion of two larger glass projects.
Topics to be covered may include:
Color mixing
Considering both sides of the glass
Layering strategies
Transmission of light
2D to 3D by slumping, draping or function.
Prior glass experience is beneficial but not required. This highly creative and hands-on course is of interest to kiln glass workers as well as artists of other media.

Thursday, October 24- Monday, October 28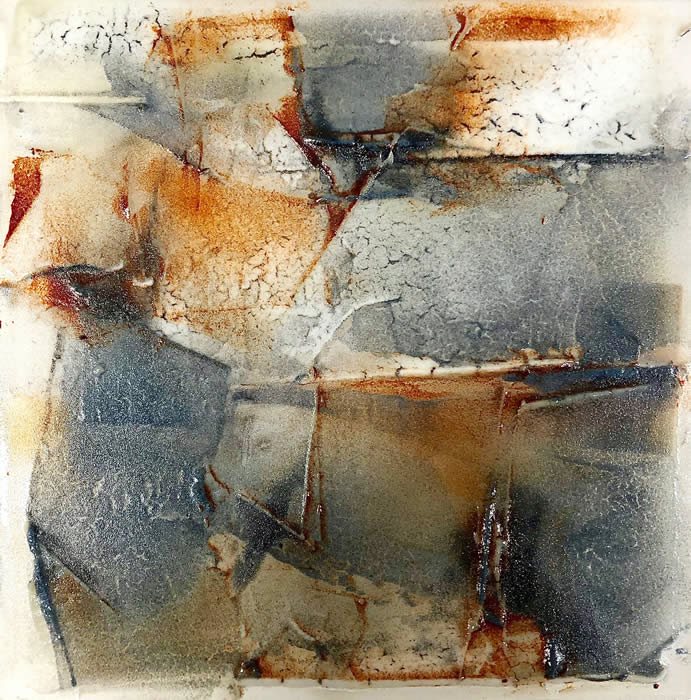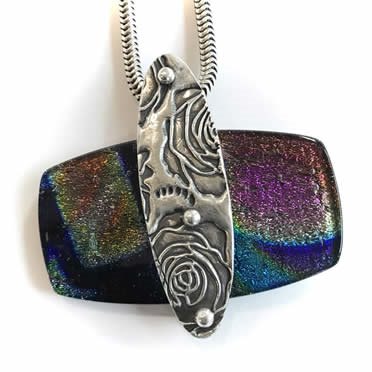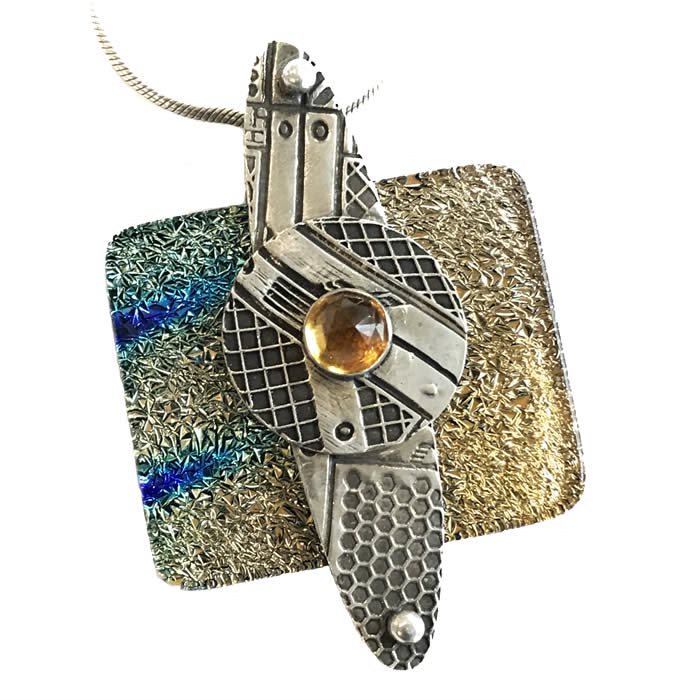 Precious Metal Silver Clay and Glass with Gail Stouffer
2-day workshop. Tuition $495.00, with a $65.00 material fee due at class.


A deposit of $245.00 is required to reserve your space. Balance $250.00 due September 1. The $65 material fee will be due the first day of class.

Learn to combine sterling silver precious metal clay* and fused glass in this exciting workshop with Gail Stouffer! On the first day of the workshop, students will create beautiful and unusual fused glass jewelry focal pieces, as well as matching sterling metal clay "jackets" to set them in. On day two, after firing the components, you'll put everything together, drilling holes in your glass and metal clay pieces, riveting them, and using some silver soldering techniques as well. Your jewelry piece will have a unique design on both sides, making it a truly reversible piece of wearable art! The perfect workshop for glass fusers or metal clay workers who want to learn more techniques for creating specialty art jewelry projects.

*Precious metal clay can be formed like any soft clay. After firing, the binder contained in the clay is burned away leaving a solid metal form.

Thursday, November 7, 9:30-5, & Friday, November 8, 9:30-3:30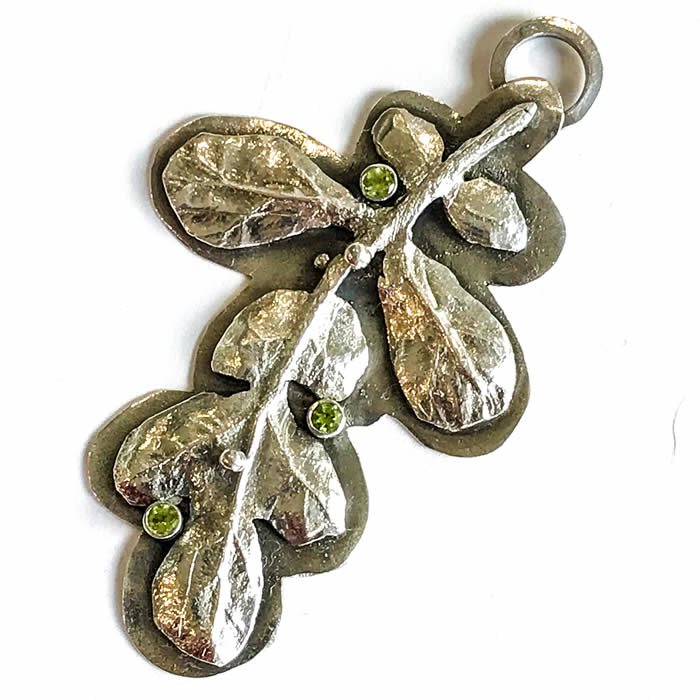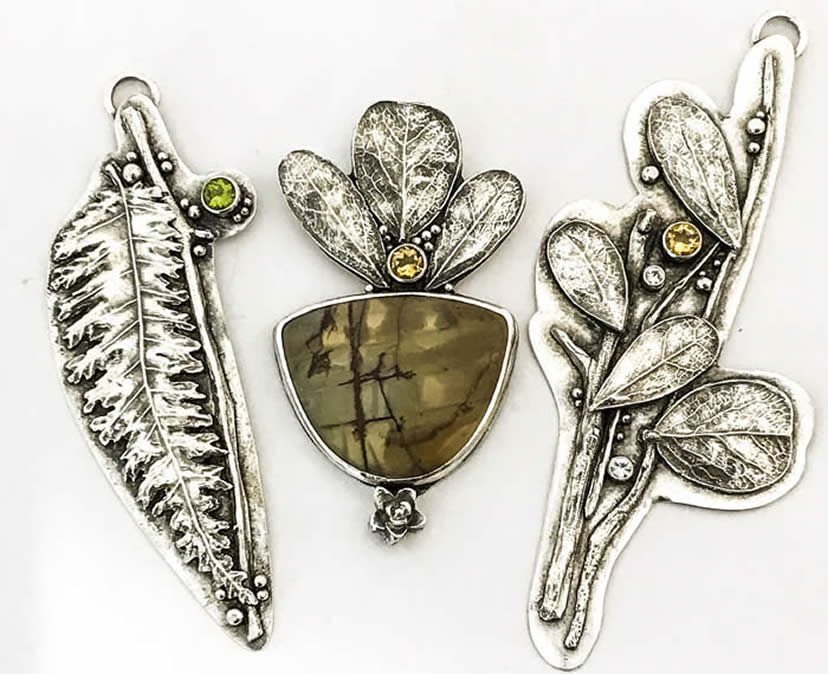 NEW CLASS!
Realistic Gardens & Faceted Stones: Techniques in Sterling Silver & PMC with Gail Stouffer
MORE DETAILS COMING SOON!
Creating realistic, cohesive, nature-inspired collections of jewelry can be challenging and intimidating for even the most experienced jewelry designer. Not anymore! In this stimulating workshop Gail will open the door to creative freedom as you expand your skill set with mold making techniques, multi-stage, multi-component soldering with tube settings and findings. Each item in yourmultiple-piece collectionwill highlight unique natural elements made from custom molded sterling clay and set on sterling silver structures with faceted semi-precious stones.
In this action-packed workshop, students will focus on:
IDENTIFYING & GATHERING FOCAL AND SUPPORT INSPIRATIONS-Design using the real thing! We'll gather local flora, make still life arrangements, document, sketch, and photograph our inspirations. Using these reference points, we'll plan the components necessary to create a full body of work.
MAKING MOLDS FOR METAL CLAY COMPONENTS-Sculpture will be our focal point, and our faceted stones are our highlights! We'll create all the molds necessary to bring our arrangements to life. These molds are the jumping off point that will allow for flexibility in designing the individual pieces in your collection.
MULTI-STAGE SOLDERING-Sterling sheet is the canvas upon which we'll build our pieces and arrange our embellishments, stone settings, and findings. First, we'll create the parts we need, and then we'll solder these multiple components, finally cutting and filing our pieces into shape using the fun and effective JoolTool machine.
SETTING STONES-We'll highlight our pieces with multiple tube settings and sparkling semi-precious stones. Small settings need special care and process, you'll learn to manage heat and add multiple settings and findings at once.
*SKILL LEVEL:Students do not have to be advanced metalsmiths to love this workshop and learn a ton!Although Gail's workshop is lower intermediate level, all levels of students will gain an arsenal of new skills and techniques.Participants should at least have some comfort and experience with basic metalsmithing techniques, be comfortable using a hand-held butane torch for soldering, and have a basic understanding of the tools on a metalsmith's workbench.Students will be working with various precious metal clays, sterling silver, and semi-precious stones. Students will be soldering, setting, sawing, firing the kilns, polishing, adding patinas and more. It is acceptable to have more experience in one area and less in others, as long as this isn't your first rodeo in metal jewelry design and construction.
Check out our archives page for a list of courses that we may not currently have on our calendar