Torchwork for Fusers
Learn to use a torch to create elements for your fused glass works. The use of a torch allows you to create fluid lines, color blends and elements not attainable using other methods.


---

Color Your World

Expand your color palette and create custom colors. In this class you will learn about color as it applies to glass. How to use transparent and opaque, blend powders and frits and sheet glass to create your own unique glass colors. We will also explore reactive glasses. Students will make many sample tiles and charts that can be used as reference for future projects.


---
Staind Glass Picture Frame

Learn the tricks to quick and accurate construction of stained glass picture frames. You can change the photos in these frames and we show you how this technique can be used to make a cool box lid! Each student will complete a frame suitable for a 5" x 7" photo.

---
Fire-Up / Writing Firing Schedules

This class is designed to help you understand the firing process, and give you the information you need to fire your kiln and write firing schedules. Learn about the various phases of the firing cycle and how to use that information to plan firings with confidence. Learn how to fire and anneal for various types of projects and how to trouble shoot when things go wrong. Each student will receive a packet of firing schedules.
---
Fusing with Iridescent Glass
In this class we will learn about the art of sandblasting and how to combine sandblasting with iridescent glass to achieve dramatic designs in fused glass. We will also explore kiln carving and creating relief texture in fused glass. Each student completes two fused and slumped projects. Several nice examples are on display in our gallery.


---
Painting With Light: Frits and Powders

Come and learn the many ways to use frits and powders to achieve
painterly effects in fusing. Break away from the limitations of sheet glass and learn application techniques like sifting, stenciling, sgraffito, and more. Experiment with a large palette of frits.



---
ArtQuest
The ArtQuest class was developed by artist instructors Carien Quiroga and Nancy Weisser to help students develop their own artistic voice using personal experience and original ideas in combination with technique to create resolved works of art. All levels are welcome and can benefit from the group dynamic.
Session One will be a ten week class beginning in April and running through the end of June. The first half of the class will focus on idea development, journaling and lessons on developing personal style, subject matter, material selection etc. Discussions may cover various artists' works as well as students' works. Journal exercises and quick challenges will be used to help you visualize and develop your ideas.

The second half of the session will focus in on students' progress as they begin to take these ideas into creating finished works of art. Technical obstacles, materials, critique, hanging, presentation, etc., will be covered.

Session Two will be a six week class beginning in late September and culminating in a gallery exhibition. These classes will focus on the workings of a gallery exhibit and what the artist needs to do to prepare. As well as finalizing pieces for the show students will create artist statements, bios, create an invitation, press and mailings, pricing, hanging the show and participating in an opening reception.

It is not mandatory to participate in both sessions, or to be part of the exhibit. However you must do session one to be part of the exhibit.

The Opening Reception for the exhibition will be Sunday, November 21!
---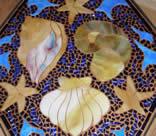 Stained Glass Mosaic

Students purchase glass, all other materials and use of tools included.
Learn all about making mosaics with stained glass in this class. This versatile technique can be applied to many different surfaces and mediums. Glass cutting, pattern transfer, adhesives and grouting will all be taught.